What is Soldier Ride?
Soldier Ride, an initiative of the Wounded Warrior Project, honors and empowers this generation of our country's brave military service members who were wounded in combat. Soldier Ride is a series of one-day cycling events held across the country. Service members are provided with customized riding equipment based on their particular needs. These adaptive cycling events are a unique way to honor our military men and women as they courageously battle the physical and psychological damages of war.
Through the excitement of cycling, our wounded service members realize the many possibilities for their future in a supportive environment with fellow wounded warriors.
GEICO Gets Involved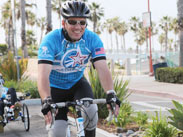 GEICO is a proud sponsor of the Wounded Warrior Project's Soldier Ride National Tour. "Soldier Ride is a remarkable event that highlights the bravery, courage and sacrifice of our injured servicemen and women," said Michael Baker, director of military marketing. "Since our beginnings, the men and women who serve our military have held a special place in GEICO's heart and history. We are proud to show them our continued gratitude and support." GEICO's support goes beyond sponsorship with ride participation in these events — at all levels of the company. "As we rode along, folks in the community came out of their homes and waved flags and cheered for the warriors," said Rynthia Rost, vice president of public affairs. "I felt proud that these men and women had been cherished in this way."
Other Ways to Participate
You can support this unique program through donations that help make Soldier Ride possible. Be an important part of this exhilarating experience as a leader in community outreach efforts, a sponsor of Soldier Ride, or as a volunteer contibuting your time. GEICO encourages everyone to participate in some way, to honor the men and women who have sacrificed for all of us. Cheer them on at ride near you!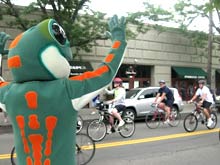 Ride Schedule
Check out the ride schedule for cities and dates where Soldier Rides will be held this year. You'll also find links to
register for an event
volunteer to help
more information for wounded warriers
See you at a Soldier Ride!