By Laura Malamud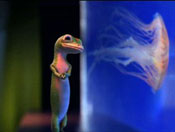 GEICO and the Association of Zoos and Aquariums (AZA) kicked off their second tour of the "traveling gecko" exhibit in January, continuing the mission of bringing attention to wildlife preservation and environmental conservation through visits to AZA zoos and aquariums around the country.
GEICO's famous green guy, the Gecko, will continue on as spokescreature for the joint public awareness project. He will appear at the live exhibits as they make stops around the country and in ads promoting wildlife conservation. The exhibit features live geckos and provides important education on the background of geckos and their threat of extinction.
GEICO will also continue to promote wildlife conservation through its support of more than 200 AZA-accredited zoos and aquariums nationwide during the three-year AZA partnership. In honor of the tour's one year anniversary, GEICO is handing out free admission tickets to the first 100 children who arrive to the zoo or aquarium on each stop's opening weekend.
"We realize that money is tight within both the family budget and for zoos and aquariums across the country," said GEICO Vice President Rynthia Rost, "and we're happy to provide tickets so children can get a close-up look at the great wildlife education that zoos and aquariums provide."
"GEICO and AZA have formed a solid partnership for the sake of wildlife conservation and education," said AZA President and CEO Jim Maddy. "The gecko's popular appeal combined with the opportunity to reach 175 million zoo and aquarium visitors every year is powerful."
The gecko tour will visit various AZA-member locations throughout the country in 2009, including Atlanta and Philadelphia, and will continue to tour through 2010. The 2009 tour kicked off in January at the Miami Metrozoo. GEICO Vice President George Rogers and Rost hosted the event for several local officials and residents.
"We're excited to host the geckos at our zoo," said Eric Stephens, director of Miami Metrozoo. "Not only is the GEICO Gecko exhibit a great way to view these interesting animals up close, it provides an opportunity for visitors to learn about the important role the zoo plays in conservation."
"I'm quite honored to support my chums, the Association of Zoos and Aquariums and GEICO, and their commitment to the environment and wildlife conservation," the Gecko added. "With enough support, saving our Earth could be a piece of cake."
Background information on geckos
A large component of wildlife conservation is providing education about endangered species and how to protect them from extinction. According to the World Conservation Union (ICUN) 16,119 plant and animal species are known to be threatened with extinction and more are added to the list each year. Geckos, like GEICO's friendly spokescreature, are currently an endangered species.
Geckos are adaptable lizards that have conquered a variety of habitats ranging from tropical beaches and lush rainforest to frigid mountain slopes and parched deserts.
More than 1,100 species occur worldwide living on every continent except Antarctica.
Gecko diversity, and biodiversity in general, depends on "islands." The term "island" includes areas of land surrounded by barriers of trees, mountains, water, ice or deserts. When groups of animals get separated from larger populations new habitat islands are created. The groups can evolve quickly and often create new species. But if the habitat islands are too small, species go extinct.