SEVERN, Md., June 17, 2010 – Matt Hauser, a local GEICO representative in Anne Arundel County has been educating teens about safe driving for several years.
As a father and an active community member Hauser knows the importance of safe driving events, saying "I believe that a socially responsible business should give back to the community. Supporting a safe alternative for students, like the Howard County after-prom parties, is a perfect opportunity for me as a local insurance agent to do just that."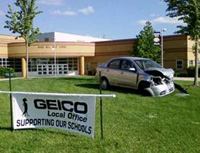 In 2005, Hauser began sponsoring after-prom events at River Hill High School to offer students safer post-prom alternatives. Since then, he has been actively involved in promoting safe teen driving throughout Howard County, MD and now sponsors similar after-prom programs in twelve local schools.
This year Hauser arranged to put a crashed vehicle on the front lawn of River Hill High School to drive home the message that there are consequences to bad driving decisions.
For more information on Hauser's safe teen driving efforts, you can contact him at 410-995-0040 or mahauser@geico.com. Hauser's GEICO office is located at 2620-J Annapolis Road in Severn, MD. Additional information on safe teen driving can be found at www.geicoteendriving.com.
GEICO (Government Employees Insurance Company) is a member of the Berkshire Hathaway family of companies and is the third-largest private passenger auto insurance company in the United States. GEICO provides millions of auto insurance quotes to U.S. drivers annually. The company is pleased to serve more than 11 million private passenger customers and insures more than 18 million vehicles (auto & cycle).
GEICO's online service center helps policyholders take care of policy sales, policy changes, claims reporting and to print insurance ID cards.
GEICO also provides insurance quotes on motorcycles, all-terrain vehicles (ATVs), travel trailers and motorhomes (RVs). Coverage for boats, life, homes and apartments is written by non-affiliated insurance companies and is secured through the GEICO Insurance Agency, Commercial auto insurance and personal umbrella protection are also available.
For more information, go to www.geico.com.