DALLAS, Texas, June 24, 2010 – Earlier this week, associates at GEICO's regional office in Dallas spent a day volunteering at Camp John Marc, a summer camp for children sponsored by the Muscular Dystrophy Association (MDA). GEICO has been a partner of the MDA for nearly 10 years.
GEICO associates staffed a tie-dye T-shirt booth where campers had the opportunity to create their own shirts. In addition they also served meals and helped to ensure a fun-filled camping experience for all the youngsters.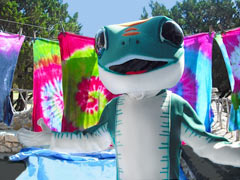 "Spending the day at Camp John Marc was a truly memorable experience," said John Balfour, event coordinator for GEICO. "There is nothing more rewarding than putting smiles on those kids' faces. We'll never forget it."
"It warms my heart that GEICO associates have become so involved in the MDA summer camps," said Charlie Garst, a systems technician for GEICO and an active volunteer. "This cause hits close to home for me and my family and I'm glad it's resonated with GEICO associates as well."
Garst's wife, Jen, is the Camp John Marc camp director and herself has Charcot-Marie-Tooth, a disorder of the peripheral nerves that affects the muscles. As a child she attended MDA summer camps and went on to become a camp counselor. Before joining the MDA staff, she also worked at GEICO.
"I get the opportunity to reach out to 100 kids each summer and provide them with the same experiences that I had so many years ago," said Garst's wife, Jen. "I know firsthand that the memories they create will last a lifetime and I am so thankful to those at GEICO who donate their time and money to support this cause."
Camp John Marc is part of Special Camp for Special Kids, an organization that serves children with chronic illnesses and major physical disabilities, and their families by providing year-round camping experiences.
GEICO (Government Employees Insurance Company) is a member of the Berkshire Hathaway family of companies and is the third-largest private passenger auto insurance company in the United States. GEICO provides millions of auto insurance quotes to U.S. drivers annually. The company is pleased to serve more than 12 million private passenger customers and insures more than 18 million vehicles (auto & cycle).
GEICO's online service center helps policyholders take care of policy sales, policy changes, claims reporting and to print insurance ID cards.
GEICO also provides insurance quotes on motorcycles, all-terrain vehicles (ATVs), travel trailers and motorhomes (RVs). Coverage for boats, life, homes and apartments is written by non-affiliated insurance companies and is secured through the GEICO Insurance Agency, Commercial auto insurance and personal umbrella protection are also available.
For more information, go to www.geico.com.