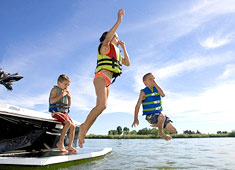 Whether you like the water warm or cold, fresh or salty, there's nothing like being out in your own boat on the open water – or at your secret fishing spot. Maybe you like to harness the wind in your favorite sail boat? Or, feel the power as you throttle up your twin outboards.
No matter what your choice in pleasure boating, GEICO can help you find the right boat insurance policy to suit your needs through the GEICO Insurance Agency. Plus, did you know that insurance coverage is available for your personal watercraft as well? Whatever your preference in watercraft, the GEICO Insurance Agency is here to help you find the right boat coverage.
So What Is Boat Insurance Exactly?
A boat policy insures you and your boat against liability and damage in the event of an accident. The types and amount of coverage you receive will depend on the specific boat policy you purchase. The GEICO Insurance Agency can help you find an affordable boat insurance policy to suit your specific needs.
Get a free online boat insurance quote right here or call us at 1-800-865-4846.
Is My Boat Covered Under My Homeowner's Policy?
Your boat may be stored in your backyard, a storage facility or a marina. Regardless of where you store your boat, you want to get it protected. Typically, auto or home insurance does not provide you with the right coverage on your boat or personal watercraft. Most homeowner's policies limit coverage to $1,000–$1,500 on the watercraft itself and restrict coverage to boats under 26 ft. and/or under 50 Horsepower. The exact coverage limits may vary by state, underwriting company, and contract. The most important thing to remember is that you're typically underinsured.
How Does A Boat Policy Protect Me?*
| | | | |
| --- | --- | --- | --- |
| | Boat Insurance | Home Insurance | Auto Insurance |
| Hull and Equipment | X | | |
| On the Water Towing | X | | |
| Fuel and other Spill Liability | X | | |
| Medical Payments | X | X | |
| Boat Trailer | X | | X |
| Personal Effects | X | X | |
| Uninsured Boater | X | | |
* The exact coverage limits may vary by state, underwriting company, and contract.
A boat policy typically covers you from damage caused by:
a collision
sinking
an accident
malicious mischief
vandalism
Most boat policies cover physical damage to:
the hull
sails
machinery
furnishings
most on-board equipment
boat trailer for damage from an external cause.
Your boat insurance needs differ depending on the type of boat or personal watercraft you own. Each policy provides detail on what is covered and what is excluded.
Tell Me More About Boat Liability Coverage
A boat policy can provide coverage for damage to another boat or a dock, and for bodily injury or death to another person as a result of your negligent operation or ownership of the boat. It may also provide coverage for medical payments to others and coverage against injury to you caused by an uninsured boater.
What Optional Insurance Coverage Can I Get For My Boat?
You may purchase optional coverages, such as:
coverage for your personal property
coverage for your fishing equipment
coverage against injury to you caused by an uninsured boater
coverage for towing, on and off the water
Please note:
The above is meant as general information and as general policy descriptions to help you understand the different types of coverages. These descriptions do not refer to any specific contract of insurance and they do not modify any definitions expressly stated in any contracts of insurance. We encourage you to speak to your insurance representative and to read your policy contract to fully understand your coverages.