Getting Married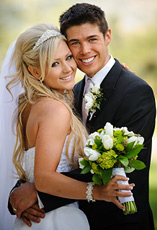 Reception table seating and planning the honeymoon are two of the first big decisions newlyweds-to-be will make. But even before the big day, you need to make sure you're financially prepared to start your new lives together.*
Before Exchanging Wedding Vows…
Start by having an honest discussion about your current financial situation. Do you have any outstanding credit card or student loan debts? Does one of you already own a home? By setting short and long term goals, you can reduce debt together and continue planning for your future. Your insurance needs may also change– that's where we come in.
Umbrella Insurance
This won't keep you dry on your wedding day, but it will help provide a canopy of protection against catastrophic financial events if your homeowners or car insurance limits are exceeded. Learn more about what an umbrella insurance policy covers.
Life Insurance
Our guide to understanding life insurance is a quick read for the newly married couple. Help protect your family's future – purchase a life insurance policy or update your current limits. If you still have questions or are ready to get a quote, call us at 1-888-532-5433 and speak to an insurance representative. You can also get a life insurance quote online.
Multi-car / Multi-policy / Multi-line Discount
Now that your lives have become one, shouldn't your insurance get together as well? Adding each of your cars to the same auto insurance policy with GEICO could save you up to 25% on most of your coverages with the multi-car discount. And when you add homeowners, renters, condo, or mobile home insurance to an existing auto insurance policy, you could save even more. Call us at 1-800-861-8380 to learn more and make changes to your policies. Not a GEICO policyholder? Get a car insurance quote online.
Additional Resources For Married Couples
*GEICO recognizes all marriages and all other types of committed partnerships, such as domestic partnerships and civil unions, as provided by each state.
Security Notice
Please note that when you click on some of the links on this page, you will be taken to sites not owned by GEICO. Any information that you provide directly to them is subject to the privacy policies posted on their websites.