2012 GEICO Military Service Award Recipients
A Milestone Celebration—25 Years and Counting
For 25 years, GEICO has honored members of the U.S. Military for their achievements and contributions to the civilian and Military community through a program of special recognition.
Since 1988, GEICO has recognized and honored our Military Service Award recipients. The outstanding Military members you see here are being recognized for their work in Drug and Alcohol Abuse Prevention, Traffic Safety and Accident Prevention, and Fire Safety and Fire Prevention. The recipients represent each branch of the Military including the Guard/Reserve communities. The work of these young men and women includes not only what they do for their commands, but what they do for the communities in which they live and work. GEICO is honored to be able to recognize such outstanding Military members and citizens.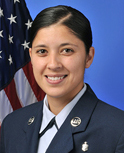 Technical Sergeant Cecilia Cardenas is the Air Force recipient of the 2012 GEICO Military Service Award for her work in drug and alcohol abuse prevention.
TSgt Cardenas is assigned to the 81st Medical Group Keesler Air Force Base, MS.
She is the Noncommissioned Officer in Charge (NCOIC) of Alcohol Drug Abuse Prevention and Treatment (ADAPT) program at Keesler Air Force Base, Mississippi. She is responsible for oversight of five team members and the ADAPT and Drug Demand Reduction (DDR) Programs. Sergeant Cardenas played a vital role in implementing and leading weekly Drunk Busters and Peer to Peer education on underage drinking with new airmen. Her work in the program was essential to the 28 percent decrease in driving under the influence and 40 percent decrease in underage drinking for the 81st Training Wing, the second largest technical training wing in the Air Force. As a result of Sergeant Cardenas' work and impact on alcohol/drug abuse prevention, Keesler's program was chosen to participate in a congressionally mandated study of substance abuse treatment.
In her off-duty time, TSgt Cardenas volunteered at CASA (Court Appointed Special Advocate) where she managed substance abuse cases and provided advocacy services for 10 abused and neglected children. TSgt Cardenas also assisted and participated in her community "National Night Out", where she briefed over 300 participants on the harm caused by drug and alcohol abuse.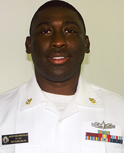 Chief Petty Officer Christopher Phillips is the Navy recipient of the 2012 GEICO Military Service Award for his work in traffic safety and accident prevention.
Chief Petty Officer Phillips is the divisional leading Chief Petty Officer of Combat Missiles Division, Weapons Department of the USS CHAFEE, DDG 90, which is home-ported in Honolulu, Hawaii. He is USS CHAFEE's motorcycle and traffic safety coordinator.
Chief Phillips has a passion for motorcycle safety and traffic accident prevention. His efforts aboard CHAFEE and at his previous duty station resulted in zero traffic and motorcycle safety mishaps. He has devoted more than 360 off-duty hours to conduct motorcycle safety briefings, facilitate new driver safety courses, enroll CHAFEE motorcycle riders in US Navy and Department of Defense safe riding courses, conduct new motorcycle check rides, and teach new owners riding techniques and motorcycle maintenance. Chief Phillips organized two motorcycle safe check rides on the Island of Oahu, Hawaii, educating 14 new riders about safe driving techniques and local riding regulations. He mentors the 21 motorcycle riders in the crew of CHAFEE and maintains a file to ensure all their safety requirements are current. He continues to freely give of his personal off-duty time to provide classroom instruction and hands-on practical training for motorcycle riders.
Chief Phillips coordinated new driver training courses for both automobile drivers and motorcycle riders for 45 Sailors under the age of 25, saving Sailors over $9,000 in course registration fees and costs. He facilitated eleven ship wide traffic safety briefings and training sessions, including a reintroduction to driving for Sailors returning from CHAFEE's 2012 Western Pacific deployment.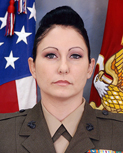 Gunnery Sergeant Tina M. Kelly is the Marine Corps recipient of the 2012 GEICO Military Service Award for her work in traffic safety and accident prevention.
Gunnery Sergeant Kelly is staff noncommissioned officer in charge and chief instructor for the Air Defense Training Section "C", Charlie Company, Marine Corps Communication-Electronic School at the Marine Corps Air Ground Combat Center (MCAGCC), Twentynine Palms, California.
GySgt Kelly's involved leadership has had a lasting and profoundly positive impact upon her current command from the moment she checked aboard for duty. She immediately recognized the need for an off-road motorcycle safety program and she proceeded to build one of the finest in the Marine Corps. She wrote the charter and by-laws for the unit program and offered these to other on-post units, in reality, creating a base-wide program. Within 2 months of starting her program she had trained 5 dirt bike rider coaches and 5 ATV rider coaches and plans were made to build a dirt bike track at the MCAGCC. Race days were initiated fostering the mentoring of off-road motorcycle and ATV riders and the cross-sharing of safe riding techniques. GySgt Kelly reached out to the community for support and invited the San Bernardino County Sheriff's Department to participate in the program and during race days. The Sheriff's Department accepted her offer and now provides safety briefings and oversight for the track rides. Her unit program has now grown off-post and is being utilized by most units assigned to the West Coast.
Most noteworthy is that the Marine off-road program was developed in GySgt Kelly's off-duty time. She was recently recognized by the Headquarters Marine Corps Safety Division during an annual Command Inspector General evaluation for her "Outstanding Efforts" and of having one of the best off-road programs in the Marine Corps.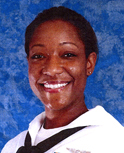 Petty Officer Ivy D. Martin is the National Guard/Reserve recipient of the 2012 GEICO Military Service Award for her work in drug and alcohol abuse prevention.
PO Martin is assigned to the Navy Region Midwest, Reserve Component Command as the Campaign Drug Free Coordinator. Her unit headquarters is in Great Lakes, Illinois.
PO Martin led the effort to establish representatives at each of the Navy Operations Centers in the Midwest Region, positions routinely left unfilled in previous years. She assisted the 33 subordinate Campaign Drug Free Coordinators in starting local programs, the dissemination of CDF and Red Ribbon Week supplies, and the management of a $50,000 budget. PO Martin is a youth mentor and routinely volunteers 20 hours a month to mentor young school girls (between grades 7 and 12) from seven different schools with the Kenosha, Wisconsin Unified School District.
PO Martin began working with the Drug Education for Youth (DEFY) Program in 2010. She tirelessly applies herself to manage the program which has flourished under her supervision. The program enrollment recently grew to 15 adults, 5 junior mentors, and 26 dependents of Army, Air Force, Marine, and Navy personnel. She coordinated and facilitated 23 courses for an extremely successful one-week camp at Volk Field Air National Guard Base, Wisconsin, from 22 through 29 July, 2012. Currently in phase II of the DEFY program, she works with members of her staff on the remaining 20 curriculum topics. These topics are taught on a monthly basis throughout the school year and give both the staff and youths receiving the instruction the opportunity to see how positive leadership, wise choices, and a drug free lifestyle can bring forth better opportunities for their future.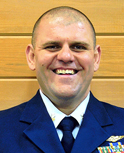 Petty Officer Claude M. Morrissey is the Coast Guard recipient of the 2012 GEICO Military Service Award for his work in drug and alcohol abuse prevention.
PO Morrissey is a helicopter rescue swimmer currently stationed at Air Station Kodiak, Alaska. He is also the Critical Incident Stress Management counselor, Ground Safety Equipment Instructor, and Command Drug and Alcohol Representative for 363 personnel.
PO Morrissey consistently avails himself to members of the Kodiak community and has become a beacon of hope to all Air Station Kodiak members dealing with depression and the temptation to turn to alcohol or drugs. His larger than life personality, relentless positive attitude, and selfless efforts have prevented an untold number of potential accidents, injuries, or deaths to Coast Guard personnel and members of the Kodiak community. He flew over 150 flight hours performing his primary duty as a helicopter rescue swimmer and was directly responsible for saving six lives during 2012. His activities and superior results have been highlighted on the Weather Channel's television program "Coast Guard Alaska."
In his off-duty time, PO Morrissey serves as a volunteer firefighter and paramedic on the Kodiak Women's Bay Fire Department. He trained for more than 130 hours as a volunteer firefighter during 2012 and responded to three emergencies. He volunteered to provide chainsaw operating safety classes at Air Station Kodiak after recognizing that many Coast Guardsmen new to the harsh winter environment were unfamiliar with their use. He and his wife, Elizabeth, are dedicated foster parents; they have cared for 7 foster children. Additionally, PO Morrissey has reached out to the entire Kodiak community to provide more than 70 hours of foster care and adoption training for at-risk children.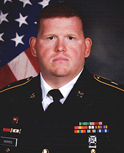 Sergeant Aaron M. Morris is the Army recipient of the 2012 GEICO Military Service Award for his work in fire safety and fire prevention.
SGT Morris is assigned to the 557th Engineer Detachment of the 68th Engineer Company, Fort Hood, Texas.
SGT Morris has been an Army Fire Department member for more than 5 years. During that time he has responded to more than 500 on-post alarms, 50 on-post traffic accidents, 25 emergency medical service assists, ten wild fires, two structural fires, and nearly 200 in-flight standby missions. While working to extinguish a brush fire near Fort Hood's Venable Village Housing Area in 2009, SGT Morris and his crew rescued four firefighters and evacuated two immobilized fire trucks saving four lives and more than $80,000 worth of equipment. While serving in Afghanistan in June 2011, SGT Morris and his crew responded to a hazardous material spill where nearly one million dollars-worth of sensitive equipment was at risk. He took charge of the situation, immediately set up a decontamination tent, suited up his team in level Alpha proximity suits, contained the hazardous chemicals and decontaminated all equipment at risk.
In addition to his exemplary job performance as a firefighter and his dedication to the Fort Hood Fire Department, he selflessly sacrificed his personal time to conduct numerous on-post fire inspections and assisted in the creation of standardized and comprehensive escape plans to ensure the safety of Fort Hood's Soldiers and their families. He has assisted his peers and fellow Soldiers in achieving their International Fire Service Accreditation Congress certifications and has educated thousands of Soldiers about the dangers of drinking and driving, fire prevention, and other safety related threats.
Media contact:
Mike Baker
Director, Military Department
GEICO
One GEICO Plaza
Washington, DC 20076
1-301-986-3906
1-800-824-5404 Ext. 3906