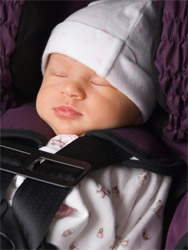 Baby's First Ride Program ensures that infants of military families travel safely, starting with their first ride home from the hospital. GEICO started this program in 1983.
Initially, GEICO donated 100 seats to an Armed Services Young Mens Christian Association (ASYMCA) Chapter that coordinated the program. Since then, GEICO has donated thousands of seats to ASYMCAs, military hospitals, family service centers, and spouse organizations.
This program allows new parents to borrow a car seat for their infant, at no charge, for a time designated by the organization. This gives parents time to purchase their own infant car seat.
To obtain a car seat, go to the ASYMCA, Family Support Center (FSC), or other supporting organization in your area and fill out a short form. You will not be charged for using the seat.
A local GEICO agent can also help locate a loaner program if you are new to the area.
Tips on using a child restraint
According to the National Highway Traffic Safety Administration, many parents incorrectly buckle their children in safety seats. Ensure that your child rides safely by following these safety tips:
Installing your safety seat
Check to ensure the car's seat belt is threaded through the safety seat frame the same way as the routing shown on the diagram in the instructions that come with the car seat.
Securing your infant and the safety seat
Always fasten your child into the safety seat and fasten the seat to the car with the seat belt.
Selecting the safest place for your infant safety seat
The middle of the rear seat is USUALLY the safest position in a crash.
Checking the safety seat's installation
Every time you put your infant in the seat, be sure to check the seat installation.
Using a safety seat
Put your child in the safety seat EVERY time your child rides in the car.