By Dawn McCaslin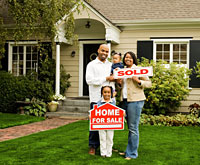 Every year, the advent of summer marks the beginning of some of life's most significant transitions. Wedding invitations begin to trickle in, high school graduates prepare for college while graduates plunge themselves into the workforce. Families usually wait for the end of the school year to make the move to their new futures, new communities and new homes. With all of the planning and coordinating involved, stress levels often rise.
Whether you're getting a child ready to enter adulthood or moving the household across the country, the list of things to accomplish can easily grow out of control. During this time of change, insurance is an important item that can be easily overlooked.
In an effort to make these exciting and challenging times easier for you, GEICO has created the following checklist for you to consider as you plan the next several months.
Moving?
As soon as you have your new address and move date, contact GEICO to update your mailing address and auto policy.

Update your homeowners, renters, condo and co-op insurance – now is the perfect time to review your coverage, get a quote and ensure that your assets are adequately protected.

Consider enrolling in Paperless Billing and Paperless Policy to ensure receipt of your policy documents, regardless of where you're moving.

Learn about your new area's seasonal weather patterns. Flood insurance typically requires a 30-day waiting period, so check into it sooner rather than later.
Starting a New Job?
As you pursue your new hopes and dreams, remember to check out umbrella insurance. It provides additional liability coverage above the limits of your current insurance policies and can help protect you and your family from potential liabilities that could result from a lawsuit.

As your assets grow and you look to protect your family, now is the ideal time to look into a Life Insurance policy. Keep in mind that stay-at-home moms and dads have an important economic value that should be covered, as well.
Sending a Child to College?
If your child is planning to take a vehicle to school, remember to contact GEICO and notify us of the change in location. Insurance requirements can vary greatly from state to state and keeping your coverage current can help protect your son or daughter.

While dorm-life is a right-of-passage, many students elect to rent an apartment near to campus. Renters insurance is an affordable way to protect their personal property.

Review safe driving tips with your son or daughter. Safe driving tips serve as a reminder of the importance of personal responsibility when you're behind the wheel. GEICO offers many resources from quarterly newsletters to videos and educational material that can help refresh and re-educate your college-bound teenager.
Planning a Wedding?
While you're combining households, consider combining your insurance policies as well. By merging insurance policies you may become eligible for new discounts and a lower rate.

Assess and inventory your property and adjust your coverage, as needed. You may need to increase your coverage to ensure your combined assets are adequately protected.
Though summer can be a hectic and stressful time of change, there are many resources available to help you organize and prioritize. Be sure to take a look at the wide variety of protection available to meet your specific needs and take the necessary steps to help properly insure yourself and your loved ones.
Best of luck in your summer transitions!