By Nathan Erb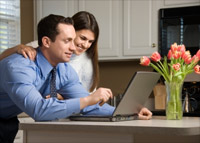 Before buying that new stereo, book, or even a pair of jeans online, many consumers now turn to reviews written by real customers who have tried the product themselves. Since buying insurance can be a confusing purchase, who better than a current GEICO policyholder to help you make a decision?
Anyone visiting geico.com can now read reviews on car and motorcycle insurance. Just look for the link to the reviews on various pages throughout the site. Soon, you'll be able to read and write reviews on even more GEICO insurance products.
Here are some of the features of our customer reviews:
Read detailed reviews and ratings from customers just like you. With over 1,000 reviews already submitted for auto insurance, you're sure to find the advice you need to make a decision.
Sort the entire list of reviews by date, length, rating, and more. You'll even see the age, gender, and location of the reviewer so you can focus on the reviews written by policyholders like you.
If you want even more people to know about GEICO, you can share your favorite reviews on Facebook, Digg, or del.icio.us by clicking the icons below each review.
Check out the car insurance reviews and motorcycle insurance reviews now. Or, to make your voice heard, just follow these easy steps:
Log in to the Policyholder Service Center.
Look for the Customer Reviews box and click on 'Write a Review'.
Write a detailed review or simply provide a 1 to 5 rating.
Ready to help others just like you? Create your own review now!