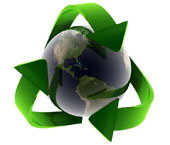 Conservationism has come a long way since the days of the simple "reduce, reuse, recycle." Today, the movement has expanded from a life change to an entire lifestyle and has earned the name "going green." You don't necessarily have to install solar panels on your home or trade in your car for a hybrid to become more environmentally conscious, though. You can start with just a few steps -- like the ones listed below -- that will help you reduce your carbon footprint and better the environment.
Bring a bag: When you go shopping, bring a reusable tote to carry your groceries or other items after making purchases. This reduces the number of plastic and paper bags discarded after a shopping trip.
Reuse water bottles: Less than 20 percent of plastic water bottles get recycled after a single use, so instead of buying a pack of plastic bottles, drink from the tap or purchase a reusable water bottle and fill it up each time.
Save electricity: Washing clothes in cold water and putting them outside to dry instead of using the dryer helps save electricity. Open a window and let in the light instead of flipping a light switch, and use smaller kitchen appliances when possible, like a toaster oven instead of a conventional oven.
Reduce gas guzzling: Obeying the speed limit helps reduce unnecessary acceleration, which will save on the amount of gas used and the percentage of carbon dioxide produced by your car. Also, keep your tires properly inflated to improve your mileage, and try not to "warm up" the car in cold weather unless it is absolutely necessary.
Stop paper bills: Many companies offer electronic options for purchasing and maintaining products, eliminating the need to send or receive paper bills. Online statements are available and automatic payments can be set up through the company's site or your bank. For example, you can log into the Policyholder Service Center at geico.com and enroll in Paperless Policy and Paperless Billing, which allow you to access your policy documents and review your bill online.*
Shop at local markets: Not only will your food be fresher and healthier, but you will also save gas by not having to travel as far to a grocery store. Shopping at a farmer's market also helps preserve local farms that might otherwise have to be sold to make room for development.
There are many other ways to better the environment and make your lifestyle more environmentally friendly, like eating a greener diet, trying eco-friendly home fixes and recycling used electronics. If you would like other suggestions on how to be more "green", please visit The Daily Green website.
*See the impact GEICO customers are having on the environment by choosing paperless options on their policy.