Vast Improvement Over 2007
Adapted by Katie Schubert from IIHS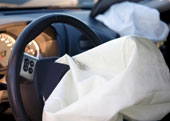 The Insurance Institute for Highway Safety's (IIHS) list of safest passenger vehicles more than doubled for 2008. At the beginning of 2007, only 13 earned the Institute's Top Safety Pick award whereas 34 models qualified for 2008.
2008 marks the first year pickup trucks have been eligible for top safety classification. Only one truck, the Toyota Tundra performed well enough to earn the rating. According to the IIHS, that is because pick up trucks are less likely to have side impact airbags (also known as curtain airbags) or electronic stability control (ESC) -- both of which are standard on the Tundra.
The award recognizes vehicles that do the best job of protecting people in front, side, and rear crashes based on ratings in Institute tests. Winners also have to be equipped with electronic stability control (ESC), which research shows can significantly reduce the risk of crashing.
Among their observations, the IIHS noted that rear crash protection has drastically improved, even since 2007. The rear impact testing was only added to the IIHS' battery of tests in 2004 and since then the safety of seat and head restraints has significantly increased. As automakers make safety adjustments to their vehicles, the IIHS will add winners throughout the year.
New Winners of the IIHS Top Safety Pick Award for 2008
Audi A3
BMW X3
BMW X5
Honda Accord
Honda Element
Honda Odyssey
Hyundai Veracruz
Saturn Vue
Subaru Impreza
Toyota Highlander
Toyota Tundra