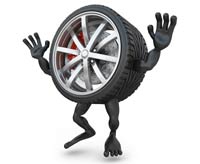 Think you know what a worn-down tire looks like? Confident you can make your tires last? Prove it.
Advancements in tire design of the future will lead to tires that are:
a. Tires? What tires? It's called a hovercraft, baby!
b. Continuous chains like that of a military tank
c. Wooden with steel bands to protect against wear and tear
d. Airless tires with rubber spokes that are nearly indestructible
The answer is D. Several leading tire corporations have already developed and demoed what they're billing as "airless tires." These tires will use less rubber, won't require air and due to the design with the flexible rubber spokes will be resistant to most road damage. Of course, if the tire industry doesn't pick up the pace we might just leave them in the dust of our hovercrafts...
The pressure number (PSI) on the side of your tire is the:
a. Manufacturer recommended PSI.
b. Maximum PSI the tire can hold.
c. Suggested range of acceptable pressure.
d. Number of months the tire is good for.
The answer is B. The number on the side of your tire is the maximum PSI (pounds per square inch, or pressure) that the tire can withstand. You should never use this number as a gauge for how much air to put in your tire. Instead, check inside the door jam of the driver's side door or check your owner's manual for the recommended range of acceptable pressure. Check out our article and video on checking tire pressure for more information.
True or false: You can generally tell if a tire's pressure is running low by looking at it.
a. True
b. False
The answer is B. False. A tire can lose up to HALF of its pressure before it begins to look visibly low. Underinflated tires are a major safety concern. Not only do underinflated tires impair gas mileage, but they can lead to faster wear and tear, an overworked engine and can cause difficult handling and higher risk of accidents.
To test the depth of your tire treads (a great indication of whether your tires need to be replaced), you place a penny into a tread groove with Lincoln's head upside down and facing you. What should you look for to indicate the tire is in good condition?
a. Plenty of space between the rubber and Lincoln's head.
b. You shouldn't see any of Lincoln's head.
c. Lincoln's head should be partially hidden.
d. A penny? I use a silver dollar!
The answer is C. As long as Lincoln's head has been inserted into the groove and part of his head is still hidden, the depth of the tread is generally considered healthy. If you can see all of Abe's head, then the tread is worn and it's time to replace the tire.
What's the big deal about tire alignment?
a. Poor alignment leads to abnormal tread wear.
b. Alignment can impact suspension.
c. Steering becomes challenging if the alignment is off.
d. All of the above
The answer is D. Alignment is a major factor in maintaining a safe vehicle and minimizing wear-and-tear to several components. Poor alignment leads to tires that wear out quickly and abnormally. Also, if your vehicle is out of alignment you'll find that steering is a challenge and this creates stress on your suspension system. Always make sure your tires are properly inflated before you get the alignment checked...improper inflation on your tires can lead to similar symptoms as an alignment issue.
What are a few things you can do to improve the life of your tires?
a. Aim for every pothole, curb, can, puddle and ketchup packet in the road. Five points each!
b. Drive like your great-grandma.
c. Moderate your speed, avoid obstacles and don't take turns like you're on the Indianapolis speedway.
d. Cover them in bubble wrap.
The answer is C. Silly as it sounds, tires are expensive and taking good care of them can greatly reduce your expenses and the wear-and-tear on your vehicle. Driving at a safe speed helps to prevent fast wear on your tires by avoiding excessive heat. Avoiding potholes and obstacles in the road not only prevents blow-outs but also helps you maintain your alignment and suspension. It may seem like common sense, but when you think about the money good tire habits can save you in the long run, it's worth the small adjustments in your driving habits.
Always check tire inflation when tires are:
a. COLD
b. HOT
c. Off the car
d. Flat
The answer is A. Always check tire inflation when tires are cold. Cold tires have been driven less than a mile or have rested for one hour or more after driving.
What's the best way to choose tires for your vehicle?
a. I find the cheapest set they offer and go with those.
b. I consider worst-case driving conditions and go from there.
c. I look for sweet tread and awesome detail...it's all about looks.
d. I let the dealer pick and then write them a check.
The answer is B. Consider the worst-case driving conditions, how often and how far you drive before you choose a tire. All season tires are a good choice if your area experiences light snow, mild summers and some rain in the spring and fall.
I've heard of lug nut locks. What are they?
a. It's kind of like a knuckle sandwich...
b. Combination locks for nut lovers.
c. A special lug nut with a locking feature that requires a "key" for removal.
d. None of the above.
The answer is C. Lug nut locks are inexpensive and can help prevent tire theft if you're in an area where vandalism is common. You only need one lug nut lock per wheel, and you get a "key" that allows you to remove the lock if you need to replace the tire or perform routine maintenance. Though the lock isn't entirely secure, it does cause a thief additional hassle and increases the likelihood they'll move on to another vehicle. Tires are expensive and valuable, so spending a few dollars on a lock can be a great way to protect your investment.
The "LT" on the side of some tires indicates what?
a. It must be a vegetarian since they left off the B.
b. Large tires
c. Light trucks
d. It's a math symbol for "less than"
The answer is C. LT tires are for Light Trucks, versus the more common P tires for Passenger vehicles. Having the proper tire for your vehicle type is critical if you want optimal performance and safety. The information on the side of a tire also indicates the maximum load capacity, maximum air pressure, width and occasionally a speed rating on the side. Check your owner's manual for the best type of tire for your vehicle.