Happy Birthday, GEICO GloveBox. You've Grown Up Fast.
In 2009, we introduced our first mobile app for the iPhone™, and since then, a lot has changed. Our GloveBox apps bring you much of the service, functionality and entertainment you expect from GEICO. And now, it's available for all major mobile platforms. Happy 1st Birthday, GloveBox!
New Features. New Devices. Same Gecko.
Other apps are green with envy. If you haven't downloaded our app yet, or are unfamiliar with the features of GloveBox, here's a quick rundown. You can:
Access your current insurance ID cards
Pay your auto insurance bill
Record accident information
Find nearby tow services, gas stations, taxis and rental cars
Entertain yourself with some funny GEICO videos
And much more, depending on the device. Take a look.
Speaking of devices, GloveBox is now available for:
Android
BlackBerry®
iPad
iPhone
iPod Touch
Windows 7
You can download any of the versions, free, right here.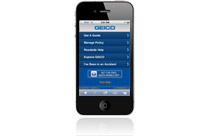 Not an app person? Check out geico.com on your mobile phone!
If you have a web-enabled phone, you can still take care of your GEICO business while on the go without having to download an app. Our redesigned mobile site at geico.com allows you to:
Review your active claims
See the driver/vehicle information on your auto policy
View your ID cards
Pay your auto insurance bill
Read auto how-to's
There's plenty of fun stuff, too. You can download the best (and worst) GEICO ringtones right to your phone, watch our commercials and connect with us via social media.

It's just another way GEICO is here for you 24/7...no matter where you are.
iPhone, iPod Touch, iPad, iTunes, and App Store are trademarks of Apple Inc.

Android is a trademark of Google Inc.

Windows Phone 7 is a trademark of Microsoft Corporation.