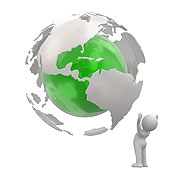 Did you know each year Americans trash enough paper to build a 12-foot wall from Los Angeles to New York City?** That's an astounding fact. So again, thanks for doing your part to help keep our planet healthy and beautiful by enrolling in at least one of GEICO's eService options.

Knowing that you're an environmentally-conscious citizen, we thought you'd appreciate some other simple suggestions to help reduce paper waste.
Ask your employer to deposit your paycheck directly into your account.
Always grocery shop with a reusable bag.
Send electronic greeting cards for birthdays and thank you notes instead of writing them and using envelopes. Send out e-vites to events.
When withdrawing money from an ATM, refuse your receipt.
Store documents, e-mails, etc. without printing them to paper. Instead, print them to a PDF and keep them on a hard drive or back them up to a CD.
Ask organizations from whom you receive snail-mail newsletters to send them to you electronically.
Many home models and virtually all office printers sold now can print on both sides of the paper. Next time you print, make sure the "Print on both Sides" option is enabled.
Interested in seeing exactly what your paper footprint is? Payitgreen.org has a handy little tool that allows you to do just that: http://www.payitgreen.org/consumer/calculator.aspx.