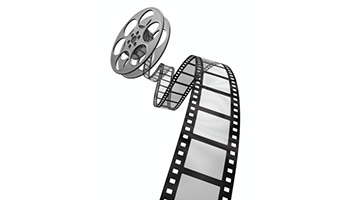 We brought you Road Song Trivia back in 2008, followed by the Tire Quiz and our Advertising Quiz. Here's our latest endeavor: The Road Trip Movie Quiz. Are you a movie buff or do you just hit the theater for the popcorn? Let's find out...
1. What comedy starring Tom Hanks has our hero playing mini-golf in luxury adrift in the ocean?
a. Cast Away
b. Catch Me If You Can
c. Joe Versus the Volcano
d. Splash
The answer is C. Joe of "Joe Versus the Volcano", played by Tom Hanks, loses everything except his luxury, floating luggage when his vessel sinks in a bad storm. Had that
boat been insured through GEICO
, it would have been protected against sinking, malicious mischief, and any number of other water catastrophes. And Joe wouldn't have arrived at that orange-soda loving island empty handed.
2. "An illegal cross-country road race" best sums up the premise of this movie which featured many well-known actors including: Burt Reynolds, Roger Moore, Farrah Fawcett, Dom DeLuise, Dean Martin, and Sammy Davis Jr.
a. Speed Racer
b. The Cannonball Run
c. Speedway
d. The Gumball Rally
The answer is B. Released in 1981, "The Cannonball Run" is a classic road trip gone wild movie. Based on the actual outlaw race Cannonball Baker Sea-To-Shining-Sea Memorial Trophy Dash (say that 3 times fast!), the ambulance used in the movie is the actual ambulance that Hal Needham and Brock Yates souped up and raced in one of the real Cannonball Runs. Interesting tidbit - the stock car Mel Tillis jumps into a pool and tunes up later is a Chevy Laguna, yet when they start the race the car is a Monte Carlo. Oops!
3. What fun flick about 3 teens skipping school and joyriding in Chicago ends with the accidental destruction of a beautiful classic car?
a. Ferris Bueller's Day Off
b. Breakfast Club
c. Summer School
d. Mean Girls
The answer is A. Matthew Broderick's famous and timeless hit, "Ferris Bueller's Day Off", is a hilarious adventure of three friends cruising through a day away from school. The movie peaks when Cameron (played by Alan Ruck) destroys his father's restored 1961 Ferrari 250 GT California. Hopefully, Mr. Frye had
classic car insurance with GEICO
. Classic car insurance typically covers classic/collector vehicles for the Agreed Value - plus there's no depreciation and the deductibles are low.
4. What film features a classic VW bus, a suicidal uncle, a foul-mouthed grandfather, and a color-blind teen on an interstate road trip?
a. Little Miss Sunshine
b. The Great Race
c. The Love Bug
d. Mad Max
The answer is A. Winner of two academy awards, "Little Miss Sunshine" depicts a quirky, yet surprisingly united family, on an 800-mile road trip determined to get Violet, the most unlikely little girl, into the finals of the Little Miss Sunshine beauty contest.
5. What star-studded animated film includes voices by George Carlin, Tony Shalhoub, Cheech Marin, Owen Wilson, Bonnie Hunt, and Paul Newman?
a. The Incredibles
b. The Polar Express
c. Wall-E
d. Cars
The answer is D. The 2004 Disney & Pixar film "Cars" had a star-studded cast and took place in fictitious Radiator Springs just off ol' Route 66. While Lightning McQueen's (voiced by Owen Wilson) friends helped him out in Radiator Springs when he was down on his luck,
GEICO's Emergency Road Service
coverage would have had him on the road a heck of a lot faster (though the movie version wouldn't have been nearly as entertaining).
6. This movie involved a road trip like no other. It's amazing what a crazed scientist can do with a DeLorean, a Flux Capacitor and 1.21 gigawatts of electricity.
a. Christine
b. Back to the Future
c. Easy Rider
d. Grand Prix
The answer is B. "Back to the Future" was released in 1985 and starred Michael J. Fox as Marty McFly - "the only kid ever to get into trouble before he was born."
7. In the family-friendly road trip flick "RV", what famous actor stars as the accident-prone dad?
a. Jim Carrey
b. Robin Williams
c. Eddie Murphy
d. Vin Diesel
The answer is B. Robin Williams stars as well-meaning Bob Munro in this dysfunctional RV comedy. Unfortunately for Mr. Munro, his vacation leads to accidents and surprising discoveries about the true meaning of family. Fortunately for our policyholders,
GEICO's RV insurance
covers everything from vehicle loss to personal effects and even includes emergency expense coverage. Sounds like Mr. Munro could have used it on his hilariously doomed trip.
8. Name the four actors who star as middle-aged suburban men struggling to overcome middle-life boredom in "Wild Hogs":
a. John Travolta, Robin Williams, William H. Macy, Don Cheadle
b. William H. Macy, Tim Allen, Robin Williams, John Travolta
c. Martin Lawrence, William H. Macy, John Travolta, Tim Allen
d. Tim Allen, Lawrence Fishbourne, Brad Pitt, John Travolta
The answer is C. Martin Lawrence, William H. Macy, John Travolta, and Tim Allen embark on a motorcycle road trip in California, trying to reclaim some of the glory of their younger days. Despite negative reviews, the slap-stick comedy grossed a moderate $252.2 million worldwide. The film proves when "four guys from the suburbs hit the road…the road hits back." Let's hope the guys had
GEICO Motorcycle insurance
to protect their prized-possessions while on the road.
9. Name the movie, based on the following quote: "Striker, listen, and you listen close: flying a plane is no different than riding a bicycle, just a lot harder to put baseball cards in the spokes."
a. Radio Flyer
b. Pushing Tin
c. Hot Shots!
d. Airplane!
The answer is D. The 1980 comedy classic "Airplane!" starring Lloyd Bridges, Robert Hays, Peter Graves, and Julie Hagerty (among others) was nominated for a Best Picture Golden Globe and won a Writer's Guild of America award for Best Comedy, Adapted. Considered a spoof of disaster films, it is adapted from the 1957 film Zero Hour by Paramount.
10. Name the movie: A 100-year-old woman reminisces about her brief love affair 84 years earlier with an artistic drifter.
a. Herbie, the Love Bug
b. Dumb and Dumber
c. Smokey and the Bandit
d. Titanic
The answer is D. Not exactly a "road-trip" film (more like an ocean voyage film), "Titanic" tells the story of an upper-class girl and a poor boy who meet on the ill-fated voyage of the "unsinkable" ship. If you haven't seen the movie, we won't spoil anything, though we're betting you probably already know how it ends.
Guess what? We want to hear from you! This is your chance to weigh in and be a part of our next issue. Email us at newsletter@geicomail.com with your all-time favorite road trip movie and then check back to see if your suggestion made our Top Ten Road Trip Movie list in our Fall edition!