A summer stalwart holds its own among modern entertainment upstarts
By Danny Carter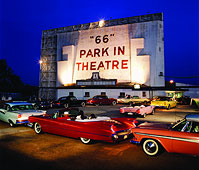 The air is heavy with the smell of corn dogs and popcorn. Towering over the end of the crowded lot stand six massive movie screens. Teenagers perch on the hoods of their new cars, holding hands and talking. It looks like 1958, the heyday of the drive-in era, but it's not. It's right now. "Except for poodle skirts, this is everything drive-ins used to be," says Jim Stacy, manager of Atlanta's Starlight Six Drive-In Theater.
Back To The Future
The first drive-in theater appeared in 1933, in Pennsauken Township, N.J., and by the end of the decade, dozens more had opened. Almost 4,000 were operating in the '50's. They were the perfect creation for a nation in love with both Detroit and Hollywood. Families could bring their kids and not worry about bothering other viewers; teenagers could meet to flirt and date.
The Fall And Rise
But during the '70s and '80s, rising real estate prices and the need for suburban land drove theaters out of business, and the advent of cable TV and the VCR made it easy for families to watch movies at home. By the late '90s, most screens had gone dark, and the image of a run-down drive-in lot choked with weeds became emblematic of that era.
Then in the early years of this century, people rediscovered this classic piece of Americana. Theaters have been popping up everywhere, and more are on the way. "The drive-in represents a simpler time." says Jennifer Sherer Janisch, CEO of Drive-On-In, Inc., "even to people who didn't experience its heyday firsthand."
Chilling Out For Cheap
Economics have also played a part in the revival. An evening at a traditional movie theater can easily run a family a hundred bucks. Drive-ins offer a discount alternative. "At the Starlight, you get two first-run films for $7 per person ($1 for kids 3 to 9), says Stacy, "and the most expensive item at the concession stand is a $4.50 bucket of popcorn bigger than your head."
With car heaters for year-round comfort and sound transmitted through dashboard radios instead of hanging speakers, today's drive-ins have technical advantages their forebears didn't. But a drive-in isn't really about the quality of the film. "That's not why I go," says Jared Case, film archivist for the George Eastman House International Museum of Photography and Film. "It's about the experience."
That's a statement everyone at the Starlight would likely agree with. As the sky darkens, radios are tuned in, headlights turned off. When the screens flicker to life, everyone cheers and honks, a crowd of hundreds all united in the moment.
To find the nearest theater, you can use your state or ZIP code to search Web sites like driveinmovie.com and driveintheater.com.
D.I.Y. Drive-ins
Dedicated to resurrecting the drive-in theater one abandoned wall at a time, MobMov (short for Mobile Movie) is the modern guerrilla answer to the drive-in.
"You can power everything from your car," says Bryan Kennedy, the man behind this new movie craze. "All you need is a projector, a laptop and a transmitter."
His Web site provides instructions for hooking up equipment and getting studio permission to screen a movie (it's illegal otherwise).
To join the party, just visit mobmov.org, find the chapter nearest you and enter your email address. An alert will let you know when someone is hosting a screening, what the movie will be and where to find it.