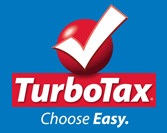 April 15th will be here soon, but there's no need to panic! Let TurboTax® guide you to your guaranteed maximum tax refund fast. Plus, as a GEICO customer, you can still save up to 25% on TurboTax OnlineSM federal products.
With TurboTax it's easy:
Step-By-Step Guidance: TurboTax guides you through your return just like a GPS, and checks along the way to help you make sure you don't miss a thing.
All the Help You Need: Have Questions? The new TurboTax Solve It Center™ makes it easy to get answers.
Maximum Refund–Guaranteed: Get your biggest refund possible.
Save Up to 25%: GEICO customers save on their taxes.
You don't pay unless you're satisfied with the results.

Refund in as few as 8 days: IRS typically estimates 8-15 days for e-file with direct deposit. State refund delivery times vary by state.
Maximum refund guarantee: If you get a larger refund or smaller tax due from another tax preparation method, we'll refund the applicable TurboTax federal and/or state purchase price paid. TurboTax Federal Free Edition customers are entitled to payment of $14.95 and a refund of your state purchase price paid. Claims must be submitted within sixty (60) days of your TurboTax filing date and no later than 6/15/10. E-file, Audit Defense, Professional Review, Live Tax Advice, Refund Transfer and technical support fees are excluded. This guarantee cannot be combined with the TurboTax Satisfaction (Easy) Guarantee.
©2010 Intuit Inc. All rights reserved. State filing charges apply. Limited time offer for TurboTax 2009. Terms, conditions, features, availability, pricing, fees, service and support options subject to change without notice. Intuit, TurboTax and TurboTax Online, among others, are registered trademarks and/or service marks of Intuit Inc. in the United States and other countries. Other parties' trademarks or service marks are the property of their respective owners.