Summer is when families and friends can get together to enjoy America's pastime — baseball. Modern ballparks offer stunning views of city skylines and gourmet food choices that overshadow peanuts and Cracker Jack®. Other classic parks are filled with history and offer an intimate sports experience. Here's a look at five of our favorite ballparks in America.
Oriole Park at Camden Yards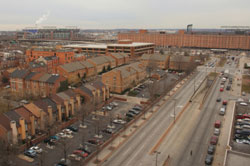 History: The one-time railroad center in Baltimore is walking distance from the city's Inner Harbor and just 2 blocks from the birthplace of Babe Ruth. The old B&O Warehouse was incorporated into the architecture of the design rather than be demolished. This was the first of the new style "retro" ballparks.

What to see: Stop by the Babe Ruth Birthplace and Museum when walking to the game. Once inside, try Boog's Barbecue — opened by former Oriole star Boog Powell.
Wrigley Field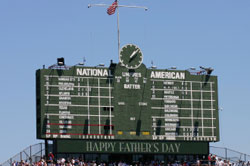 History: The second oldest ballpark in the major leagues, this classic Chicago stadium is a must-see for any baseball fan. It's the location of Babe Ruth's "called shot," when Ruth allegedly pointed to a bleacher location during the 1932 World Series, then hit a home run on the next pitch.

What to see: The atmosphere outside the stadium on game days is electric. Try the food and drinks at the surrounding restaurants in "Wrigleyville" with Cubs fans. Look for the "W" or "L" flag flying above the scoreboard after the game indicating a win or loss.
AT&T Park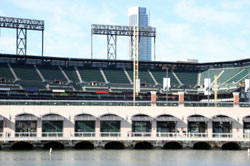 What to see: Breathtaking views of the San Francisco Bay from the upper deck highlight the unique scenery of AT&T Park. If you're lucky, you'll see a Giants player hit a home run into McCovey Cove for what is known as a "Splash hit".
Because AT&T Park is built right on San Francisco Bay, the breeze and cold fog require a jacket, even during the summer months.

What to eat: Gilroy garlic fries are the classic creation of ground garlic, herbs, and parmesan cheese served over French fries. Just be sure to grab a breath mint afterwards.
PNC Park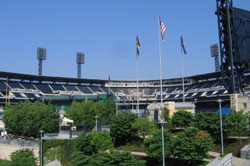 What to see: The scenic downtown Pittsburgh skyline and riverfront views give this retro ballpark its character. It replaced the multi-purpose Three Rivers Stadium in 2001.
Take a stroll across the Roberto Clemente Bridge and along the riverfront on your way to the game.


What to eat: PNC Park offers plenty of local favorites, such as pierogies. But the must-have is the famous Primanti Brothers sandwich, featuring meat, coleslaw, tomatoes and French fries all piled on thick Italian bread.
Fenway Park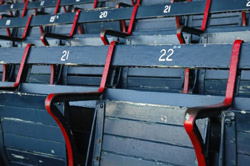 History: Fenway Park in Boston is America's oldest ballpark, dating back to April 20, 1912. It's one of the best known sports venues in the world. In 2005, the Red Sox announced that Fenway Park would remain their home indefinitely.

What to see: The park is best known for the Green Monster, a 37-foot-tall wall that looms over left field. Try a Fenway frank or a steaming cup of clam 'chowdah' — both wicked good. Fenway Park will celebrate its centennial in 2012.

We want to hear your thoughts on the best ballparks in America. If you have a favorite ballpark, tell us why by emailing us at newsletter@geicomail.com. We'll choose your favorite sights, sounds, foods, and stories and post them on the GEICO Blog this summer!