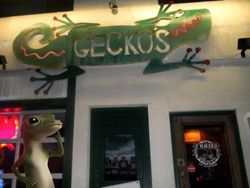 How long would it take a gecko to travel from sea to shining sea? While GEICO's new commercials may offer brief glimpses into the Gecko's journey across America (so far leading him from the office parking lot to New York City and Texas), his journey will be far more comprehensive and interactive online thanks to social media.
You can even influence his journey by making recommendations of the hottest local spots. Know a great place to eat in Dallas? Let the Gecko know and he just might end up there.
You can view a map of all of the Gecko's stops, see where he'll be going next, and submit suggestions directly to him. It's also a great way to see all of his updates, photos and videos in one convenient place.
Embark on a safe journey of your own.
If your holiday plans include a journey of your own, follow our tips to be prepared for one of the busiest driving seasons:
Take the time to winterize your car.
Get ample rest before your journey, and stay alert for traffic pattern changes, stopped vehicles and deer crossings.
Don't let your gas tank get close to empty; you don't want to run out if you get stuck in traffic.
In addition to keeping a safety kit in the car, have insurance information close by for roadside assistance.
Make sure your headlights and tail lights are clean to provide more visibility during dark winter days.
Be aware of distracted drivers – and avoid being one yourself!
Remember to share the road with commercial vehicles, as they are heavier than the average car.