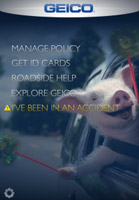 We're no stranger to creating fun mobile apps like the BroStache, which was recently nominated by Mashable for Best Branded Mobile App of the year. Now, we've taken everything you love about GEICO and made it mobile with the all-new GEICO App.
What's new about it?
Customize With Your Favorite GEICO Character
Can't get enough of Maxwell the Pig? Now, you can choose him to be the background in your GEICO App!
ID Cards, Bill Pay, Emergency Road Service and more!
With the GEICO App, you can pay your bill, manage your policy, contact ERS and do so much more, right from your mobile device. And we've made it even easier to view your ID cards. They are now optimized to load full-screen, so you can view and swipe through your ID cards just like your photos!
Improved Accident Guide
With our interactive Accident Guide, you can rest assured that we will help you collect all the information you need to file a claim. With the touch of a button you can have your ID card ready, record the accident details and location and call GEICO to report your claim.
Get it now!
Text MOBILE to 43426 (GEICO) to download now, or visit www.geico.com/gomobile for more information.
iPhone, iPod Touch, iPad, iTunes, and App Store are trademarks of Apple Inc. Android is a trademark of Google Inc. Windows Phone 7 is a trademark of Microsoft Corporation.