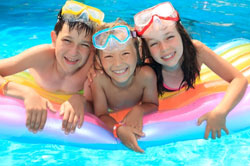 Whether it's an Olympic size swimming pool or an inflatable kiddie pool shaped like a pink elephant, there's no better way to beat the summer heat in your back yard. But fitting into your bathing suit isn't the only challenge you'll face when you own a pool. Safety is, of course, a primary concern. Here are some tips to keep you, your family and your financial future safe and secure.
Pool Safety Precautions
Take these safety measures if you have an in-ground pool installed at your home, especially if young children have access to the pool.
A four sided fence around an in-ground pool is a necessity. The latches should be above the reach of young children.
Never leave children unattended in the pool area.
Do not leave toys floating in the pool when not in use, as this can be a temptation for toddlers to reach into the pool for them. Consider adding a safety cover to the pool.
Inspect pool filters and other mechanical devices, and know how to shut them off if needed. Keep children away from these areas.
Other must-haves include: A telephone with emergency numbers, first-aid kits and rescue devices such as a reaching pole and ring buoys.
Check out the www.poolsafely.gov website and the Insurance Information Institute for more information on how to swim safely this summer.
Umbrella Insurance – A smart idea even on the sunniest of days.
Even if you take every precaution, there is always additional risk when you have a pool at your house. Be sure to inform your insurance company when installing a pool to make sure you're adequately covered. Because a pool increases your liability risk, you'll want to consider increasing your coverage.

Homeowners insurance covers certain kinds of accidents. However, if a guest is injured or drowns in your swimming pool, you could be sued for more than the liability amount. An umbrella policy takes over when your homeowners policy reaches its payout limit.

Learn more about umbrella insurance and get an umbrella insurance quote today.
Additional Summer Safety Resources