The Tale Of The Roving Restaurant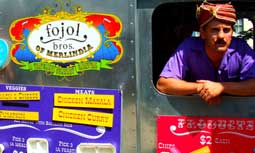 When you think of street food, you probably think of hygienically questionable hot dog stands or a soft pretzel that's been hanging like a piece of art for days. Think again.
The days of the "roach coach" (or "street meat", if you prefer) are long gone and have been replaced by high end, mobile restaurants using quality ingredients.
The craze has even inspired shows on the Food Network. So, how did it happen?
Cheap, Quality Food In A Down Economy
A restaurant is expensive to open, maintain, and market. In a down economy, a food truck carries far less risk, has lower start-up costs and the location can change anytime.

And for consumers, cheap eats and unique creations made food trucks popular lunch stops in business districts and for students looking for a quick, hot meal.
Find The Food
A traditional restaurant does have one distinct advantage – you know where it is.

But another trend, social media, helped spark the sudden growth of food trucks. California's Kogi BBQ used Twitter and Facebook to let hungry fans know when and where the truck would be. Fans flocked to the unique truck for some late night Korean BBQ. Soon, every tech savvy truck owner was reaching fans through social media.

And they don't just travel alone. With so many trucks in each city, there are even "food truck festivals". Theme parks, sporting events and music festivals have attracted food trucks from all over the country.
Creativity – It's More Than Just In The Kitchen
Sure, it's about the food, but a food truck that resembled an old moving van wouldn't attract you to a lobster roll. That's why food trucks are as clever as they are delicious.

Check out GEICO Now's slideshow of the seven most creative food trucks.
Fad Or The Future Of Dining?
The food truck industry isn't without its challenges. A rainy day or a flat tire can mean an entire day of lost sales.

Police will often fine a food truck for overstaying their welcome at a meter, but some owners simply consider it part of their operating expenses. Traditional restaurant owners have also battled back. A taco truck parking in front of your Mexican restaurant isn't good for business.

Regardless, these trucks are showing no sign of slowing down. Try some of the unique offerings in your city!
Photo: Jane Choi