By Cassia Herndon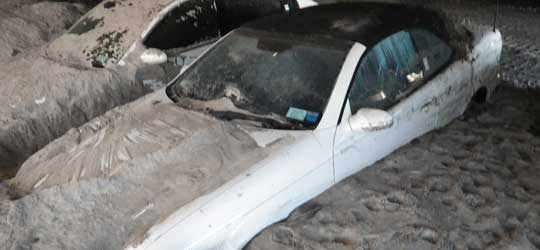 Superstorm Sandy caused devastation along the East Coast, leaving many without a home and transportation. Through this trying time, GEICO associates pulled together to help impacted customers.
To ensure we had enough resources, GEICO's Catastrophe Response (CAT) team was deployed, and hundreds of adjusters from all over the country flew in to help out. They lived and worked out of RVs, traveling through neighborhoods letting people know they were available to help them with their claim and inspect their vehicle. One GEICO associate who was helping customers stated, "GEICO is the number one auto insurer in New York, so when our policyholders need us, we are there."
An auto damage adjuster from the West Coast witnessed families living in homes with no electricity or heat. One family was warming themselves with wood cut from a tree that had fallen into their home. The homeowners said that the first person they saw on their street after the storm was the GEICO adjuster, and when they saw the vehicle coming it felt like the cavalry had arrived.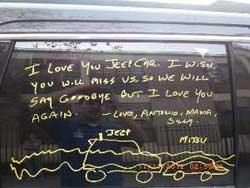 Emotions ran high for a six-year-old boy who wasn't ready to say goodbye to his family's vehicle. The boy and his mother wrote a note on their Jeep, saying goodbye and that it would be missed. The auto damage adjuster who lent a hand said that it was an experience he would never forget.
GEICO associates in New York and New Jersey suffered many of the same hardships as customers. Working to get customers back on their feet gave associates a sense of community following the devastation. One New York associate explained, "I had a good cry, and then I got back on the phone. I knew there wasn't anything I could do about my possessions, but I could work and help someone else."
In the aftermath of the storm, associates continue to share unforgettable experiences of connecting with customers. The outpouring of thanks regarding our CAT team's responsiveness has been tremendous. Although the East Coast is still recovering, we are grateful to have shared in so many of these very personal stories.
To see the GEICO CAT team in action, watch this video.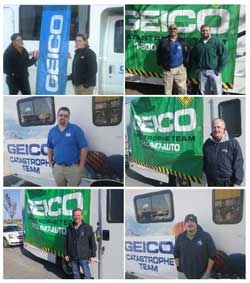 GEICO's Thanksgiving Day CAT Crew (left to right, top to bottom): Laura Moronta and Johanna Parkinson at Oceanside; Jeff Schuman and Marcus Malloy 94th St., Rockaways Beach; Corey Aten at Howard Beach; Dennis Keefe, Tom Mulvey at 49th St. Rockaways; and Edward Kute at Howard Beach, handed out checks and answered New York customers' questions with other CAT team adjusters who worked Thanksgiving Day. Photos submitted by Phil Waxberg.