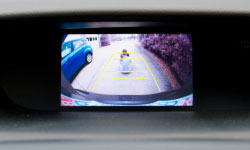 According to the Insurance Institute for Highway Safety, deaths on U.S. roads have dropped to their lowest levels since 1949¹. Advances in safety technology over the years have had a major impact on those numbers.
If this article were written in 1958, we'd be talking about the Saab GT750 becoming the first vehicle with standard seat belts.
Even as recently as 1998, new vehicles were not required to have dual airbags.
High-end luxury vehicle manufacturers are often the first to offer new safety features. But as the benefits are proven and costs are reduced, they become standard even on economy cars.
While not all of these safety features will stick around, we've highlighted some of the ones we think are the coolest right now. And, in 20 years when cars drive themselves (spoiler alert), you can look back at this article and laugh at how outdated it is.
Inflatable Seat Belts
Ford's inflatable seat belts were an industry first, and debuted on the 2011 Explorer. Ford designed the belts to help reduce head, neck and chest injuries for rear seat passengers — often children and older passengers who can be more vulnerable to injuries.
Night Vision Goggles (sort of)
You don't need to be in the military or on a night safari to get your own night vision camera. Just take a look at Mercedes' Night View Assist, BMW's Night Vision, or several other active and passive automotive night vision systems.
If the system senses that there could be a collision with a deer, pedestrian or other object, a warning signal will appear on the navigation system or instrument cluster.
Your Attention, Please
Mercedes-Benz calls it Attention Assist and Volvo calls it Driver Alert Control. We call it a potential life-saver for anyone who's ever driven while fatigued or distracted.
The systems assess whether the car is being driven in a consistent manner. If the system detects that the driver's behavior is becoming erratic, or the road markers are crossed, an alert will sound. Volvo's system even displays an adorable cup of coffee and the message, "Time for a break."
Lane Departure Warning Systems
Almost every luxury brand has offered a lane departure system for years, but most manufacturers are now offering this feature. The system sounds an alarm when you get too close to, or cross a lane marker. It may sound annoying, but it forces you to pay more attention.
I'm Pickin' Up Good Vibrations
If you find noises and alarms annoying, the Cadillac XTS will replace those beeps with seat vibrations. Drifting out of a lane toward another vehicle or failing to notice a forward or rear object while parking are just a few of the situations that will trigger this system.
Cars That Stop Themselves – And Save Pedestrians
Volvo introduced "City Safety" on the XC60, which used cameras and radar to help the car stop itself if it sensed a low-speed collision was imminent. They took it a step further last year with the s60's "Pedestrian Detection with Full Auto Brake".
The new system sounds an alarm if it senses a person is in the vehicle's path. If the driver doesn't react in time, the car will automatically activate the brakes.
It's the closest thing we have to…
The Driverless Car
It may seem like science fiction, but a car that drives itself is closer to reality than you think. All of the technology above moves us towards that goal, and Google has taken the next step.
The Google Driverless Car is a project that fits a Toyota Prius with three GPS antennae, radar systems, cameras to read signs and traffic lights, and a fast-spinning laser eye that scans for cars, pedestrians and other obstacles. It's already been tested in several cities across the country.
Of the 30,000 people a year killed in car crashes, the majority are the result of human error. Although there are no plans to commercialize this technology yet, someday driverless cars could save lives.

¹Source: http://www.iihs.org/news/default.html#032312