We hope you'll never need to use any of this.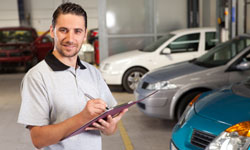 An auto accident brings you about as much pleasure as the dentist or jury duty.
But reporting the claim should never be a painful step in the process. We won't go as far as saying we've made claims "fun", but we've certainly made the process as fast and convenient as possible.
You can settle claims right from the comfort of your home office, couch or bean bag chair.
Just go online! (as if you needed another excuse to surf the web)
Do it all online. Start with our redesigned Report a Claim page. Once you log in, you'll be able to:
Report your claim
Upload a copy of the police report
Upload photos of accident details and vehicle damage
Make appointments to see an auto damage appraiser
Make a reservation for a rental car
The Final Steps
Throughout the claims process, you'll also be able to use geico.com to:
Find contact information for the claims professional handling your claim or email a claims professional directly to get your questions answered
Review a detailed estimate for your vehicle repairs including parts and labor costs, as well as photos of the damage
Review claim payments that have been issued for your vehicle damages as well as for medical bills