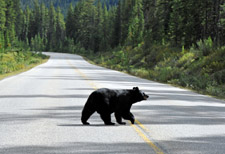 Do you feel safer driving on rural roads than in urban areas? Many people do, but studies show that rural roads are the most dangerous.
Drivers are more likely to drink and engage in distracted driving. Combined with factors such as poorly maintained roads, wildlife, and higher speed limits, it's no wonder rural driving has high fatality rates.
Take our quiz to learn about the hazards of country highways and roads.
1. A mental state in which a person can drive long distances (and generally respond to events in the expected manner) with no recollection of having consciously done so is called:
a. Driving Without Attention Mode (DWAM)
b. Highway hypnosis
c. White line fever
d. All of the above
The answer is D. The term "highway hypnosis" was coined in 1963, and it's also referred to as "DWAM" and "white line fever." To avoid this, take frequent breaks, open the windows to get fresh air and keep your eyes and mind active.
2. Deer are heavy creatures (no offense, deer). If you're about to collide with a deer, you should:
a. Swerve to the right
b. Swerve to the left
c. Maintain control and release the brakes at the moment of impact
d. Hit the "eject button" on your seat
The answer is C. Unless you're about to hit an elk (which can crush a car), you should never swerve. Swerving could make you lose control of your vehicle and send you into oncoming traffic or a tree. Take your foot off the brake on impact to reduce the likelihood the deer will come through the windshield (braking hard can cause the nose of your vehicle to dip).
3. Slow moving vehicles, such as tractors, are marked with which warning sign on the back?
a. Yellow chevron
b. Red and orange triangle
c. Yellow deer
d. Stop sign
The answer is B. A slow moving vehicle (SMV) sign is a reflective orange triangle with a red border that warns drivers that the vehicle is traveling slowly – usually less than 25 miles per hour. Use caution when passing, and watch for hand signals from the operator to indicate a turn or stop.
4. Which of the following contributes to wildlife entering roadways for a late night snack?
a. Fast food litter
b. Road salt
c. Vegetation
d. All of the above
The answer is D. While plants are obvious, animals also find your leftover bacon cheeseburger to be a delicacy. In the winter, animals enjoy the salty snack that road crews use to melt the ice.
5. What does this road sign indicate?

a. Winding road
b. Roundabout
c. Steep hill
d. Snake crossing
The answer is A. The winding road sign indicates three or more curves in succession ahead. It will usually have a lower posted speed limit below it.
6. Using your high beams at night is effective for which of the following?
a. Scaring away deer
b. Spotting the reflective eyes of an animal
c. Seeing through fog or snow
d. None of the above
The answer is B. High beams should always be used at night, except in fog, heavy snow or against oncoming traffic. They'll help you spot the reflective eyes of an animal, but they can also hypnotize a deer. If you see a deer frozen in the road, slow down and flash your lights to break the spell.
7. According to the National Highway Safety Administration, _____ of child car seats are used improperly.
a. 10%
b. 50%
c. 75%
d. 99%
The answer is C. 75% of parents are doing it wrong, which can spell disaster on rural roads at higher speeds. Educate yourself before strapping in your most precious cargo.
8. More people buckle up in rural areas than in urban areas.
a. True
b. False
The answer is B. False. With less traffic and police presence, people are less likely to buckle up on rural roads. This leads to greater fatality rates than urban areas, so be sure to "click it" every time!
9. Deer migration and mating season generally runs from:
a. All year – they're always on the go
b. August to January
c. September to October
d. October to December
The answer is D. According to the Insurance Information Institute (III), deer migration and mating season generally runs from October to December. More deer-vehicle collisions occur in this period than at any other time of year, so be alert. We'd warn them, too, but we don't speak deer.
10. Which of the following rural road hazards should you be aware of in autumn?
a. Wet leaves
b. Loose gravel
c. Ice
d. All of the above
The answer is D. All of the above can be hazardous during the fall. Drive slowly between dusk and dawn when poor visibility and temperatures can make secondary roads extra dangerous.