Connect With Your Music And So Much More (Safely, Please)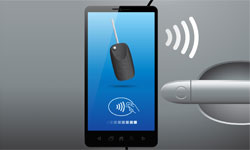 Let's be honest...we need to be entertained, informed and connected. What's inside the car is becoming just as important as what's under the hood. Tech-savvy car buyers will be delighted by the advances automakers have made with infotainment systems.
The rapid innovation of car technology has meant exciting new ways of bringing music, news, navigation, apps, voice commands, and much more to your driver's seat.
Here's a look at some of the coolest features you'll find in new cars, and most importantly, how and when to use them safely.
Music To Your Ears
Tired of commercials and relying on a radio DJ to pick your tunes? Today's cars make it easier than ever to access your music library.
Nearly every new car has an auxiliary port where you can connect your MP3 player or smartphone with the car. This is our least preferred option while driving, since you'll need to control the music from your phone. And in many states, it's illegal to use your phone at all while driving. If you're driving solo, create a playlist ahead of time so that you can start the music before you drive. Otherwise, let your passenger manage the setlist.
A better option allows you to connect your smartphone into a USB port or use Bluetooth to wirelessly connect your phone. Then, you'll be able to use your steering wheel and stereo controls to access your library.
The newest infotainment systems will even let you stream music from your favorite apps; such as Pandora, iHeartRadio, MOG and more.
There's An App For That
The future of your car's dash is all about the mobile experience and smartphone integration, and the latest trend is to use your smartphone apps with the car's infotainment system. The Tesla Model S, for example, features a 17 inch touch screen where you can control everything from climate control to a web browser.
Depending on the system, the in-car interface can allow you to do web searches, check the weather, make restaurant reservations, buy movie tickets, find local fuel prices and much more!
However, just because you can update your Facebook status from your steering wheel doesn't mean you should. Recent studies suggest that even voice commands can distract a driver. And since we're a car insurance company, that leads us to...
Safety First
As infotainment packages continue to evolve, auto makers will need to focus on safety. While laws against texting and driving have been passed, using an infotainment system can be just as distracting.
Personalized systems based almost solely on voice commands and gesture recognition is one step to keeping the driver's eyes on the road, but not the only answer. Learn more about distracted driving and get tips to help you focus on the road.