Founders Day
GEICO Celebrates Its Beginnings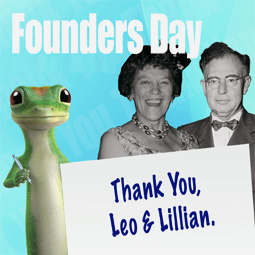 Although many people did not come to know GEICO before the advent of The Gecko as spokes-lizard, GEICO has a long history. On September 9, GEICO celebrates "Founders' Day," commemorating the founding of GEICO by Leo and Lillian Goodwin in 1936.
The Goodwins brought their plan to life beginning with the idea of writing insurance for government employees and certain categories of enlisted military officers. But their business model involved a twist—eliminating agent's commissions by marketing insurance directly to consumers and operating at a lower cost. The approach is one that still saves policyholders money today.
With a solid plan and the ability to execute it, GEICO grew and proved that the business model was sound. The company attracted the attention of America's most revered investor, Warren Buffett. Mr. Buffet was first attracted to GEICO as a graduate student and he not only invested in GEICO but recommended the stock to others. His relationship with the company led to Berkshire-Hathaway's purchase of GEICO in the 1990s and the relationship continues today.
So, here's to you Leo and Lillian! Or, as The Gecko would say, "Cheers, Leo & Lillian."
Contact Us
We're here for you 24 hours a day, 7 days a week. The quickest way to contact us is through our app or online. You can also ring us by phone.