Junior Tennis Champions Center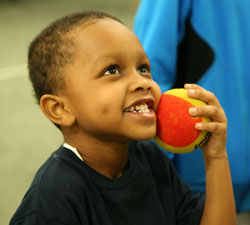 GEICO is an active supporter of local organizations who are making a difference in the communities in which we serve.
One such organization is the Junior Tennis Champions Center. JTCC is a high performance youth tennis training center located in College Park, MD. JTCC is dedicated to providing each student with a pathway to earn athletic scholarships to top schools in the country. 101 students have graduated from JTCC's invitation-only, Champions program. Of these graduates, 95% have played or are currently playing collegiate tennis, and 5% have turned professional. JTCC's graduating class of 2011 is receiving scholarships valued at $1.6 million over the next four years at leading schools including Duke, Vanderbilt, UCLA, and the University of Virginia.
In 2009, GEICO and JTCC partnered to launch Game On!, a community outreach program designed to bring tennis and academic enrichment to underserved youth in the District of Columbia. In the beginning, Game On! was implemented at one site, Turkey Thicket Recreation Center. Approximately 40 children were in attendance. Since the program's inception in 2009, Game On! has expanded to include five sites in the District of Columbia and introduce the wonderful benefits of tennis to over 500 youth. GEICO continues to be the lead sponsor of the Game On! program.
Game On! strives to achieve the following goals and objective at each site:
To increase time spent on physical activity among at-risk youth
To foster interest in a new sport
Increase the likelihood that youth will remain active and in school
Increase the capacity for positive interaction among at-risk youth and their peers
Reduce participation in criminal behavior or gang activity by providing youth with a structured out-of-school environment
Currently, Game On! in the Washington D.C. area is offered at five locations:
Turkey Thicket Recreation Center
Community Academic Public Charter School (CAPCS)
Cleveland Elementary School
Bancroft Elementary School
Boys and Girls Club – George Ferris
GEICO has provided financial support to allow the continued growth of the Game On! initiative. In fall 2012, over 100 underserved athletes participated in the Game On! initiative at these sites. That number rose to 150 athletes participating during the spring of 2013.
The most motivated and promising students who participate in Game On! are invited to receive additional training at JTCC's facilities in College Park at no cost. GEICO has been instrumental in the success of each participant who is invited to receive additional training at JTCC. JTCC's programming has shown consistent results in positioning students to receive academic and athletic scholarships to prestigious colleges and universities across the United States.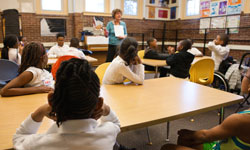 Recently, GEICO and JTCC piloted a new academic program in the Game On! curriculum. The program is known as the Academic Creative Engagement Curriculum (ACE). It introduces a unique fusion of tennis and educational activities. GEICO and JTCC have implemented ACE at four of the five Game On! sites and intend to introduce ACE at the last site beginning this fall. Each Game On! participant receives one hour of specialized tennis instruction and individual mentoring, followed by one hour of academic lessons performed by an ACE certified instructor.
Due to continued support by GEICO, each Game On! participant receives two free hours a week of tennis instruction and educational enrichment for three sessions a year (spring, summer, fall). In addition, each participant who attends 90% of all sessions receives a free racquet and tennis clothes. GEICO's support has allowed JTCC to maximize the value of Game On! in the Washington, DC community.
In addition to supporting Game On! GEICO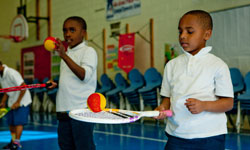 continues to sponsor JTCC's fundraising gala. Proceeds from this fundraiser directly benefit Game On! and yearly scholarships offered to promising Game On! participants.
Contact us 24/7 through our Mobile app, online, or by phone.