GEICO tip: don't let texting and driving run in your family
WASHINGTON, D.C., Nov. 19, 2016 – Because parents greatly influence how their children drive according to the National Highway Traffic Safety Administration (NHTSA), GEICO encourages parents to lead by example. GEICO's message during National Teens Don't Text and Drive Week and every week is don't let texting and driving run in your family.
GEICO reminds teens and their parents of the very real dangers of texting while driving:
Texting while driving S-L-O-W-S response times to hazards
It can cause inattention blindness, which leads to drivers missing objects directly in front of them
It changes brain activity, which could cause driving mistakes
To guard against smartphone use while driving, GEICO asks all drivers to take the following steps:
Set smartphones to silent or 'do not disturb'
Stow away smartphones in a safe, out-of-reach place such as the trunk or a backpack
Program GPS destinations while the car is still parked
Create a playlist of your favorite tunes so you don't have to 'DJ while driving'
Pull over in a safe spot to use a phone if necessary
For more safe driving tips, visit GEICO's safe driving resources center.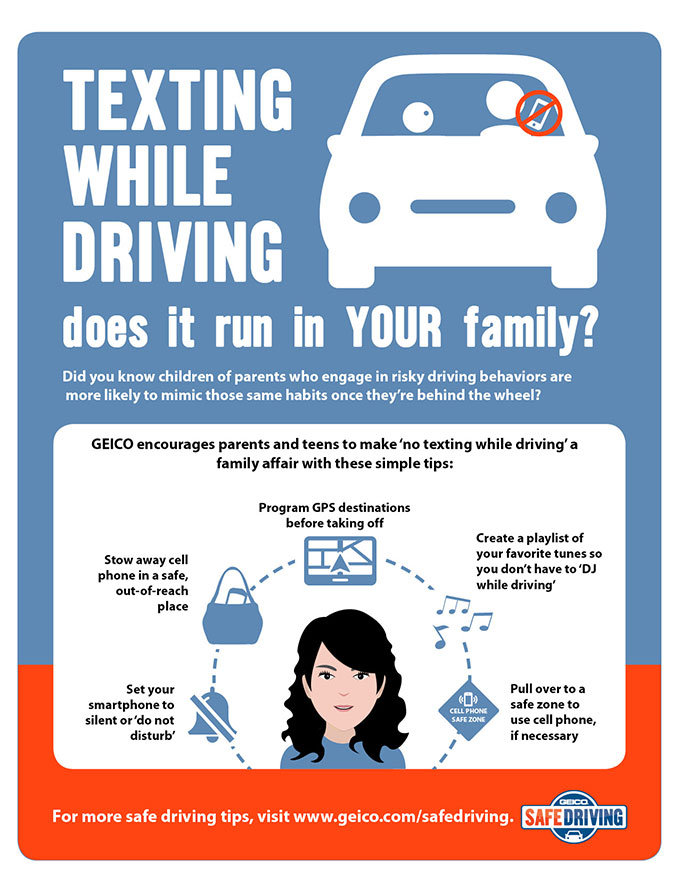 Contact Us
Contact us 24/7 through our Mobile app, online, or by phone.