GEICO/BoatUS offer pros and cons of where to store your boat this winter
Washington, D.C., December 08, 2016 – With winter moving in, it's time to decide where to store your boat. GEICO and BoatUS can help you make that decision with the following information.
Your driveway
Pro: Most boat owners prefer to save as much money as possible. Storing your boat on a trailer in your driveway doesn't cost a thing and it's easy to do winter maintenance.
Con: However, the biggest drawback of this type of outdoor storage is that your boat will be exposed to harsh weather and the sun's harmful UV rays, which can rot trailer tires. A boat stored in the open is also more vulnerable to theft or vandalism. A good cover is a must for any boat stored outside.
Your garage
Pro: To avoid the outdoor hazards, some boat owners choose to move their boat into the garage where you don't have to pay winter storage fees. It's safer than your driveway because your boat won't be a target for theft, exposure to the weather, nosy critters, or falling tree limbs.
Con: In order to fit your trailer in the garage, you may need to install a removable or foldable trailer tongue. Of course your vehicle may also have to a find a new winter home.
At the marina or your own slip
Pro: Avid boaters sometimes choose to dock their boats in the water at a marina. When the weather warms ups, the boat is ready to go.
Con: The downside is that unless you own the dock yourself, you'll have to budget for marina fees. And keep in mind that whenever your boat is stored in the water, you are in a pitched battle to keep it afloat. Heavy snows or clogged deck drains can conspire to sink a boat. Many marinas also offer a less expensive option for on-land storage for trailer boats.
Dry rack boat storage
Pro: An increasing number of boats are being stored ashore on marina dry storage racks using forklifts to arrange the boats. If it's an indoor dry storage facility, your boat will be protected from the weather. Dry rack storage also allows you to have the facility launch your boat for you whenever the weather warms up.
Con: However, there is a cost for the convenience and protection this storage option offers.
Self-storage facility
Pro: Almost anywhere you live, you can choose to keep your boat at an indoor or outdoor self-storage facility for the winter.
Con: While self-storage may be less expensive than dry rack storage, it may be located farther from the water and you'll need to be aware of any theft issues. Prices vary, so it pays to shop around.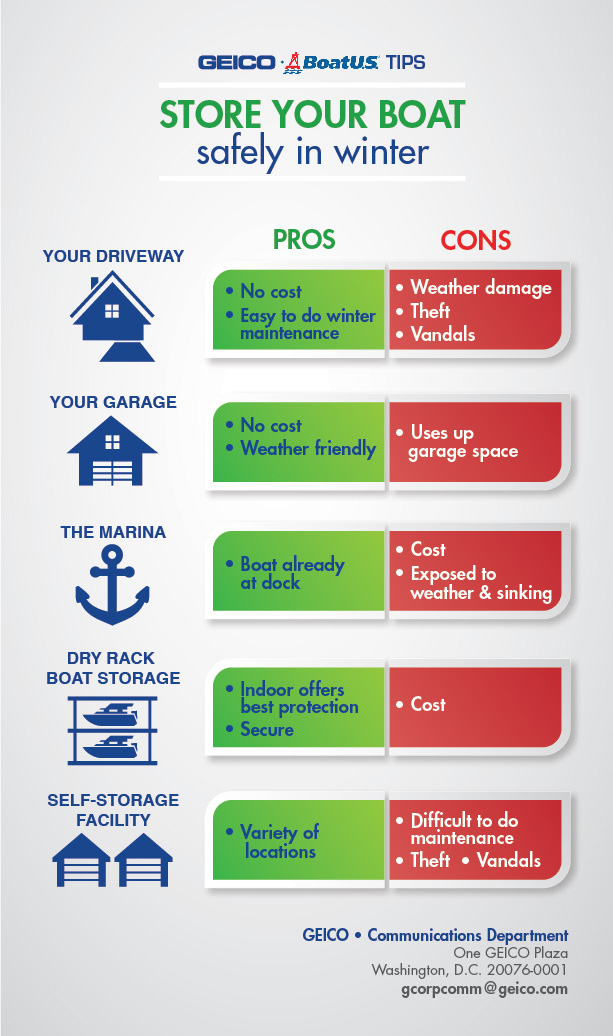 Contact Us
Contact us 24/7 through our Mobile app, online, or by phone.