Prince George's County Publick Playhouse hosts 6th season of GEICO Gecko theatre live shows for students
WASHINGTON, D.C., Jan. 7, 2017 – GEICO Gecko theatre presents another season of Midweek Matinee live performances at the Prince George's County Publick Playhouse.
This popular series is back for its sixth season, sponsored by a $30,000 GEICO Philanthropic Foundation grant. The series features eight free performances for students throughout Prince George's County.
"Here at GEICO, we understand that the fine arts are an important component of a well-rounded education," said Seth Ingall, GEICO senior vice president and head of GEICO's Philanthropic Foundation. "That is why we are proud to support this initiative to get students out of the classroom and into the playhouse for an intimate, live-theatre experience. It is our hope that this will help ignite student's creativity and get them excited about learning through art and cultural experiences."
During a recent live showing of "Snowday: An A Capella Musical History," the GEICO Gecko greeted Prince George's County dignitaries and officials, who attended the special performance.
Remaining performances for the 2017 season include:
Thursday, January 19: "Building Stories"
Thursday, February 16: "Anansegromma of Ghana: African Dance, Drums, Story and Games"
Wednesday, March 8: "Alexander Who is Not Not Not Not Not Not Going to Move"
Tuesday, March 14: "Thomas Edison: Inventor, Lecturer, and Prankster"
Monday, April 3: "Miss Nelson is Missing"
For tickets and information, call the Publick Playhouse at (301) 277-1710.
###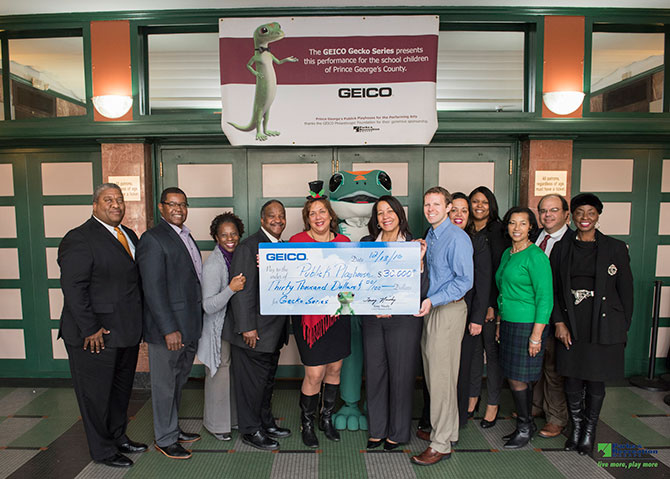 About The Publick Playhouse
The Publick Playhouse is owned and operated by the Maryland-National Capital Park and Planning Commission, Department of Parks and Recreation. The Department of Parks and Recreation acquired and began restoration of the Playhouse in 1975. The Playhouse serves as a venue for the performing arts, concerts, dance, theater and community events and is one of the two surviving Art Deco theatres in Prince George's County. The Maryland-National Capital Park and Planning Commission is an unprecedented six-time National Gold Medal Award winner for excellence in park and recreation management.
Contact Us
We're here for you 24 hours a day, 7 days a week. The quickest way to contact us is through our app or online. You can also ring us by phone.