Steve Robinson to lead GEICO's Charleston local office
CHARLESTON, W. Va., Jan. 18, 2017 – GEICO's local office in Charleston has reopened under the new leadership of Steve Robinson and his team of licensed agents at 3806 MacCorkle Ave. Southeast.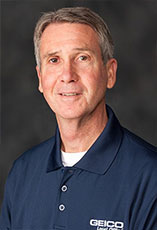 "GEICO has plenty of room to grow in West Virginia," Robinson said. "We're eager to broaden GEICO's footprint and deliver competitive rates throughout West Virginia, Ohio and Kentucky."
Along with auto policies, Robinson and his staff can help with homeowners, renters, umbrella, RV, ATV, boat, motorcycle and more forms of insurance. Robinson and his team offer multi-line discounts to policyholders, as well as additional savings for those who are members of certain professional, educational, medical or alumni organizations. For example, West Virginia and Marshall University alumni could qualify for a discount.
Robinson and his experienced team—made up of office manager, Will Smith, and agents Amanda Burke, Michelle Williams and Honor Johnson—understand the unique insurance needs of Charleston area residents. Their goal is to provide service with a personal touch for all GEICO product lines.
Hours for the Charleston local office are 9 a.m. to 6 p.m. on weekdays and Saturdays from 9 a.m. to 4 p.m. To get a quote or learn more about GEICO's Charleston local office visit them online or call (304) 344-0555.
Contact Us
We're here for you 24 hours a day, 7 days a week. The quickest way to contact us is through our app or online. You can also ring us by phone.