Jim Leavy's GEICO local office moves to Sarasota
SARASOTA, Fla., March 2, 2017 – GEICO's Sarasota local office, headed by agent Jim Leavy, has relocated from Bradenton, Fla., to its new location at 7406 North Tamiami Trail in Sarasota, Fla., just north of the Sarasota-Bradenton International Airport on US 41.
Leavy and his team members, Sandy Figueroa, Brittany McVey, Stacey Bennett, Amanda Drake, Bailey Henry, Susana Diaz, Kiersten Perez, Tiffany Gillum, Brittany Penney, Sean O'Linn, Kyle Weaver, Sarah Kenney and Rebecca Ginn fully understand the unique insurance needs of Florida's Gulf Coast residents in the Sarasota and Bradenton areas. Along with auto policies, staff members can assist with homeowner's, condo, renters, boat, motorcycle and more forms of insurance.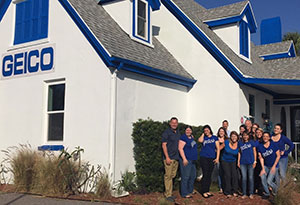 Agents work to bring savings to customers whenever possible, whether through multi-policy discounts or for individuals who are members of certain alumni and professional organizations.
Look for the GEICO Gecko and members of the local office team at various events around Sarasota and Bradenton throughout the year, such as the Suncoast Super Boat Grand Prix, Tampa Bay Rays games, the Car Show at the Bradenton Convention Center and the Sarasota Festival of the Arts.
Hours for the Sarasota local office are 9 a.m. to 5:30 p.m. on weekdays and Saturdays from 10 a.m. to 1 p.m. To get a quote or learn more visit GEICO's Sarasota local office online call (941) 753-2886.
Contact Us
We're here for you 24 hours a day, 7 days a week. The quickest way to contact us is through our app or online. You can also ring us by phone.