Norfolk State University, Hampton Roads Transit and GEICO partner to support Norfolk State University's student-athletes
NORFOLK, Va., April 12, 2017 – The ribbon-cutting ceremony for the Norfolk State University/GEICO light-rail car will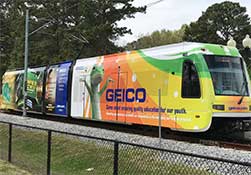 take place on April 12, 2017, 3 p.m. at the Hampton Roads Transit Yard on Brambleton Avenue across from the Norfolk State University campus.

Representatives from Hampton Roads Transit, Norfolk State University and GEICO will unveil a newly wrapped light rail car to bring awareness to Norfolk State University. The partnership supports the department of athletics' mission to provide scholarship opportunities and enable student-athletes to achieve excellence both on and off the field.
The university's Director of Athletics, Marty L. Miller said, "The department of athletics is excited about the opportunity to partner with GEICO in an effort to support the academic and athletic success of the student-athletes at Norfolk State University. The partnership with GEICO will strengthen the viability of the athletics program and bring even more credibility to this outstanding institution."
"GEICO supports many worthwhile programs across the country, through colleges and universities and non-profit organizations that contribute to the development and success of students," says John Pham, regional vice president. "The partnership with Norfolk State University and Hampton Roads Transit is one of the ways that we demonstrate this commitment, which we hope will encourage support from others."


Contact Us
We're here for you 24 hours a day, 7 days a week. The quickest way to contact us is through our app or online. You can also ring us by phone.