GEICO offers tips to protect your family during a wildfire
WASHINGTON, D.C., MAY 3, 2017 – As many as 90 percent of wildland fires in the United States are caused by humans. According to the National Park Service, some human-caused fires result from campfires left unattended, the burning of debris, negligently discarded cigarettes and intentional acts of arson. The remaining 10 percent are started by lightning or lava. As of April of this year, statistics from the National Interagency Fire Center reports that 2,227,918 acres have already been damaged by fire.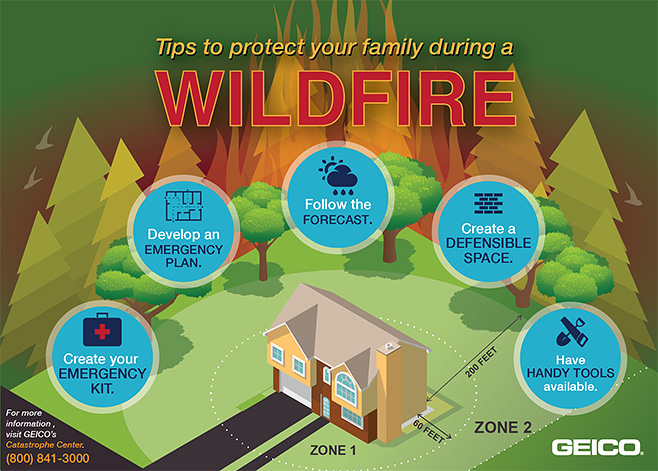 GEICO is offering the following tips from FEMA, Ready.gov, to help protect your families and minimize your losses during a wildfire:
Create a defensible space. Defensible space is an area surrounding your property that serves to reduce the threat of an oncoming wildfire. Within the space, remove all flammable vegetation, trim shrubs and trees, and clear dead foliage that can catch fire quickly.

Have handy tools available. A ladder, rake, axe, handsaw, chainsaw, bucket and shovel are great fire tools to have at your disposal. Keep these items in your home at all times.

Develop an emergency plan. Plan several escape routes away from your neighborhood. Designate a meeting place for family members away from your home.

Create your emergency kit. Restock your emergency kit, including important documents, prescriptions, IDs, flashlights, batteries and first aid supplies.

Follow the forecast. Stay tuned in to phone alerts, TV or radio for weather updates and evacuation orders. Familiarize yourself with local emergency plans.
Review your homeowner and vehicle insurance policies to ensure that you have adequate coverage. Also, update your home inventory list and photograph the inside and outside of your home. For more information on how to protect your family, home and vehicle from severe weather, visit GEICO's Catastrophe Center. GEICO policyholders who need to report a loss can log on to the new mobile app, GEICO's Claims Center, or call (800) 841-3000 24 hours a day.


Contact Us
We're here for you 24 hours a day, 7 days a week. The quickest way to contact us is through our app or online. You can also ring us by phone.