GEICO named a Top Workplace for three consecutive years by the Indianapolis Star
INDIANAPOLIS, June 30, 2017 – Three associates at GEICO's office in Carmel, Ind. can tell you exactly why the Indianapolis Star recognized the company as a Top Workplace for the third year in a row. In their words:
"They reward hard work."
"They care about my professional development."
"My management staff supports me."
"We can't thank our associates enough for voting GEICO a Top Workplace for three consecutive years," said Eric Stafford, assistant vice president of GEICO's Indianapolis office. "Since we opened our office in Carmel in 2013, the number of our associates has quadrupled to more than 1,000, and their hard work stretches well beyond supporting our policyholders. Outside the office GEICO associates turn their attention to local community organizations like Habitat for Humanity, the Humane Society and Second Helpings."
Bonnie Huckeby is one of many who consider GEICO a game changer in her life. A sales agent at GEICO for one year, Huckeby says, "Before coming to GEICO, I worked on and off as a server at several restaurants to make ends meet as a single mom. GEICO was my first real job, and in one year's time I've already been promoted twice. I'm thankful to be a part of a company that rewards hard work."
Devin Roberts, a senior hiring specialist, noted that GEICO provides an overwhelming amount of support for both her professional and personal development. "I'm very fortunate to be able to work with people who care about my professional development and who are willing to put in the time and effort toward my success," Roberts said.
Veronica Hopkins is a member of GEICO's Supervisor Preparation Program, which puts associates on the fast track to taking on a supervisory role. "As an associate, I feel valued and if I ever have an issue I need help with or an area I'm struggling with as a supervisor I'm able to find ample support in my management staff," Hopkins said. "Also, GEICO provides me with plenty of opportunities to continue my education—currently I'm pursuing my Chartered Property Casualty Underwriter (CPCU) designation to further advance my insurance career."
GEICO's Top Workplace honor was based on associate responses to a survey sponsored by the Indianapolis Star that focused on various aspects of workplace culture such as how well it aligns with the company's values, whether management effectively executes strategies and how connected associates feel.
Because of its continuing growth, GEICO has the "help wanted" sign up and is eager to greet candidates with competitive starting salaries, a comprehensive benefits package, continuing education, career growth opportunities, community engagement opportunities and a friendly, supportive workplace. For job listings and to submit an application, visit https://careers.geico.com/office-locations/indiana-indianapolis/.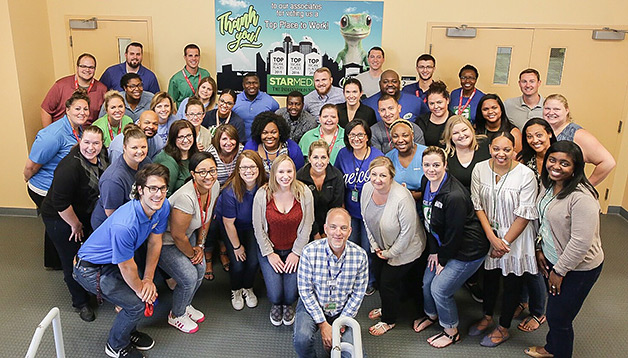 Contact Us
We're here for you 24 hours a day, 7 days a week. The quickest way to contact us is through our app or online. You can also ring us by phone.