GEICO opens local office in Gahanna to serve Greater Columbus area
GAHANNA, Ohio, Sept. 8, 2017 – GEICO has opened a new local office at 105 North Hamilton Road in Gahanna across the street from Gahanna Lincoln High School. Kyle Haskins, an experienced GEICO insurance professional, will lead a team of five licensed agents at the new location.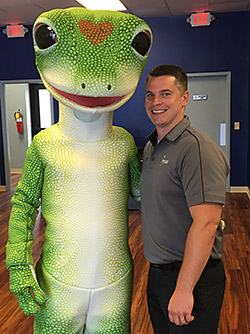 "We're eager to jump into this market and give the hard working people of Columbus another avenue to save on auto insurance," Haskins said. "We look forward to delivering competitive rates with a personal touch to those not only living in Columbus, but also the northeast suburbs around Franklin County."
Haskins is no stranger to GEICO, having worked for the past 10 years as an agent in one of the country's top performing local offices prior to opening his own location. Haskins and his team of agents—Joshua Haskins, Jerry Lowery, Zachary Gleason, David Pultorak and Katie Peters—have an extensive insurance background with more than 85 years of experience collectively. The Gahanna local office team can help customers with auto insurance as well as homeowners, renters, motorcycle, umbrella, boat and more coverages.
GEICO agents in the Gahanna local office look to bring savings to policyholders through multi-line and special association discounts, as well as additional savings for those who are military members and government employees.
Weekday hours for GEICO's Gahanna local office are 9 a.m. to 5:30 p.m., and Saturdays from 9 a.m. until 1 p.m. To get a quote or learn more about GEICO's Gahanna local office visit www.geico.com/Columbus-east or call (614) 934-3131.
Contact Us
We're here for you 24 hours a day, 7 days a week. The quickest way to contact us is through our app or online. You can also ring us by phone.