GEICO opens local office to serve Austin area
AUSTIN, Texas, Oct. 3, 2017 – GEICO has opened a new local office at 4930 South Congress Ave., Unit C-302A in Austin. Xzavier Haywood, an experienced insurance industry professional, will lead a team of five licensed agents at the new location.
"We're eager to jump into the Austin market to help our customers protect the things that are important to them so they can live worry-free and sleep well at night," Haywood said. "We look forward to delivering competitive rates with a personal touch to those living around Austin as well as areas in Caldwell and Bastrop Counties."
Haywood has lived in Texas his entire life, and he and his team of agents–Desiree Terazzas, Kevin Barrera, Brittnee Dow, Ashley Shaw and Lisa Robertson–fully understand the unique insurance needs for the Austin area. The Austin local office staff can help customers with auto insurance as well as homeowners, renters and umbrella coverage.
For those who like to spend time outdoors fishing at McKinney Falls or camping in Krause Springs, GEICO local agents also can assist with RV, boat and ATV coverage. The office has Spanish-speaking staff members available to help customers.
GEICO's Austin local office looks to bring savings to policyholders through multi-line and special association discounts. For example, alumni from University of Texas, Texas A&M, TCU, Texas State, Texas Tech and University of Texas at San Antonio may qualify for an alumni discount. Additionally, military members and government employees may be eligible for special savings.
Weekday hours for GEICO's Austin local office are 8:30 a.m. to 7 p.m., and Saturdays from 9 a.m. until 4 p.m. To get a quote or learn more visit GEICO's Austin local office online or call (737) 402-5600.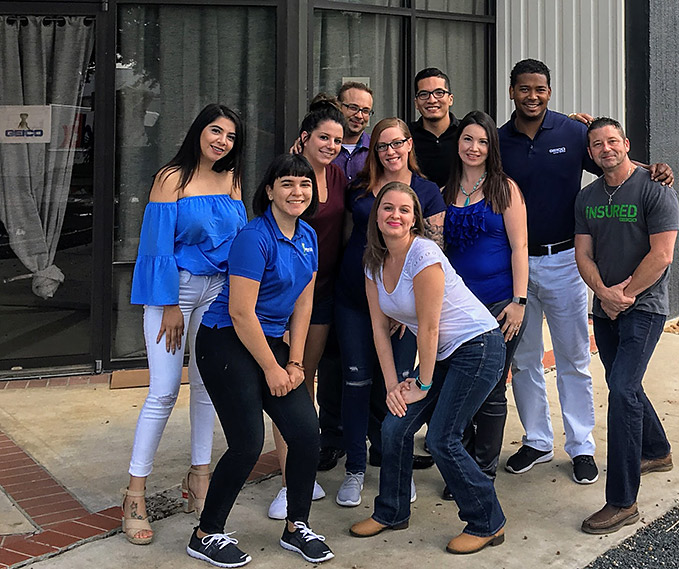 Contact Us
We're here for you 24 hours a day, 7 days a week. The quickest way to contact us is through our app or online. You can also ring us by phone.