GEICO opens second local office to serve Richmond metro area
RICHMOND, Va., April 11, 2018 – GEICO has opened a new local office in south Richmond at 8010 Midlothian Turnpike between Chippenham and Powhite Parkway. Brian Cory will lead a team of four licensed agents at the new location.
"The Richmond metro area continues to see substantial growth, fueled in part by it being recognized as a top city for millennials," Cory said. "As the city expands, we look forward to bringing GEICO's competitive rates with a personal touch to customers living around south Richmond, Midlothian, Chesterfield, Petersburg and additional nearby towns."
Prior to opening GEICO's Richmond area local office, Cory worked on the staff at GEICO's Hampton, Va. local office for eight years. In addition to his insurance background, Cory has experience teaching math and also coaching high school basketball. Cory and his staff members—Ashley Bullard, Kiara Monroe-Butler, Katy Ryan and Michael Bennett—can help customers with not only auto insurance, but also coverage for homes, condos, renters, motorcycles, RV, boat and more.
GEICO agents in the Richmond area local office look to bring savings to policyholders through multi-line and special association and alumni discounts. For example, alumni from University of Virginia and Virginia State University may qualify for an additional discount. The office also can work with military members and government employees to see if they qualify for a specific discount.
Weekday hours for GEICO's Richmond area local office are 9 a.m. to 6 p.m., and Saturdays from 9 a.m. until 2 p.m. To get a quote or learn more visit GEICO's Richmond area local office online or call (804) 591-4797.
Cory's office adds to GEICO's local presence in the Richmond area, which also includes a local office at 8405 W. Broad Street that serves points north of the city as well as the Short Pump area.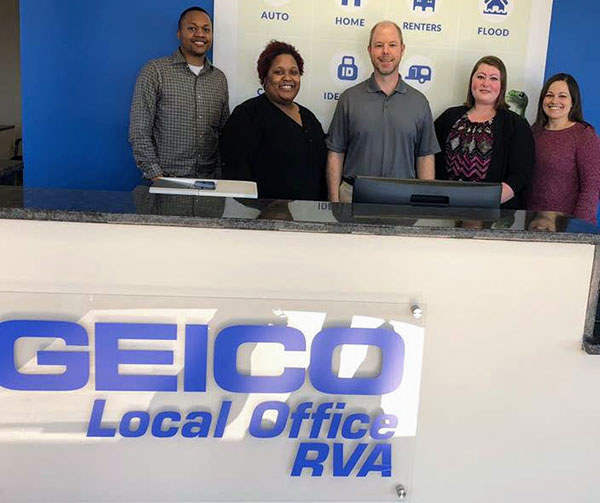 Contact Us
We're here for you 24 hours a day, 7 days a week. The quickest way to contact us is through our app or online. You can also ring us by phone.