Local GEICO office opens in the Dayton area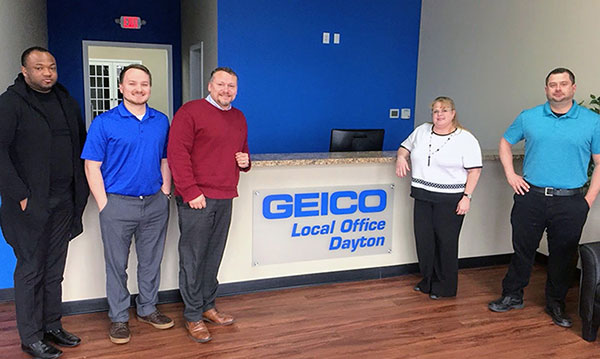 DAYTON, Ohio, April 30, 2018 – GEICO has opened a new local office in West Carrollton at 466 North Springboro Pike, one mile north of the Dayton Mall. Andrew Etheridge will lead a team of four licensed agents at the new location.
"Dayton is a new market for GEICO to have a local presence, and we see a tremendous opportunity to grow" Etheridge said. "We're eager to bring GEICO's competitive rates with a personal touch to customers living in the greater Dayton area, including the counties of Montgomery, Preble, Darke, Greene, Clark, Champaign, Logan, Miami, Shelby, Mercer and Auglaize."
Etheridge is no stranger to GEICO, having worked as a sales agent and supervisor for more than five years prior to opening the Dayton area local office. His insurance industry experience also includes more than 10 years of managing and consulting for more than 30 independent insurance agencies in the Dayton area.
Etheridge and his staff members—Jennifer Poorman, Nick Hill, Justin Couchot and Quinton Archie—can help customers with not only auto insurance, but also coverage for homes, condos, renters, motorcycles, RVs, flood and more. For those who like to spend time on one of Ohio's many lakes, agents also can assist with coverage for boats.
GEICO agents in the Dayton area local office look to bring savings to policyholders through multi-line and special association and alumni discounts. For example, alumni from Miami Ohio, Ohio University and the University of Toledo may qualify for an additional discount.
GEICO has a long history of working with military members to meet their individual insurance needs. At the Dayton area local office, staff members can assist military members stationed at Wright-Patterson Air Force Base to see if they qualify for additional savings through GEICO's military discount program.
Weekday hours for GEICO's Dayton area local office are 9 a.m. to 6 p.m., and Saturdays from 10 a.m. until 2 p.m. To get a quote or learn more visit GEICO's Dayton area local office online or call 937-269-0777.
Contact Us
We're here for you 24 hours a day, 7 days a week. The quickest way to contact us is through our app or online. You can also ring us by phone.