GEICO honors Weezie Mullaly as local agent of the year
YONKERS, N.Y., May, 8, 2018 – GEICO named Weezie Mullaly of its Yonkers location local agent of the year for leading her office to record-setting sales growth and making an impact in the Westchester community. Mullaly's GEICO local office at 1915 Central Park Ave. in Yonkers was not only a top sales performer, but also led customer service rankings among GEICO's more than 160 local offices nationwide.
"This honor reflects the hard work and determination of our entire team members," Mullaly said. "We are all fanatics for outstanding customer service and meeting the needs of our community. We appreciate all of our policyholders who have helped us earn this honor, and remain firmly committed to assisting them with all their individual insurance needs."
Mullaly's GEICO office opened six years ago, and started with a team of two agents in an office which Mullaly describes as being similar in size to an average apartment. Today, the staff has grown to a family of 22 fully-bilingual sales and service agents. They work at a combination of two Yonkers locations to accommodate their growing customer base.
Mullaly's GEICO roots run deeper than her local office, which serves customers in Westchester and Rockland Counties, as well as all five boroughs of New York City. Prior to opening the office, Mullaly managed sales, customer service and claims service teams at GEICO's regional office in Woodbury for nearly 18 years, and credits this experience for helping her local office to grow so quickly.
Mullaly's Yonkers staff members have gotten involved in the local Westchester community as well. The office sponsors a number of local causes, including the Rye YMCA Derby, the Walk 4 Hearing Impaired, the Rye Little League baseball and softball teams, the Junior League of Central Westchester and local school fundraisers in Rye.
Mullaly herself serves on the Junior Board of Family Services of Westchester and participates in Volunteer NY, an organization dedicated to promoting volunteerism in New York.
GEICO's Yonkers local office can assist customers with auto insurance, as well as coverage for renter's, homeowner's, umbrella, motorcycles, condos, boats and more forms of insurance. To get a quote or learn more about GEICO's Yonkers local office, visit them online or call (914) 874-2886.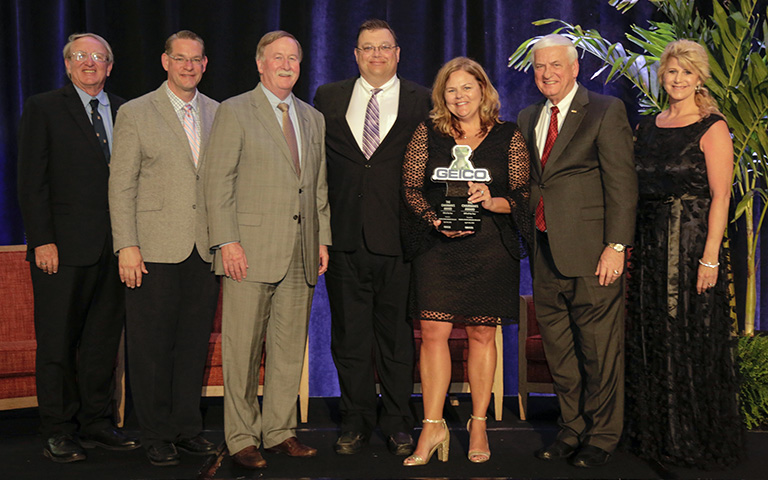 Contact Us
We're here for you 24 hours a day, 7 days a week. The quickest way to contact us is through our app or online. You can also ring us by phone.