GEICO opens second local office to serve greater Memphis metro area
MEMPHIS, Tenn., June 11, 2018 – GEICO has opened a new local office in east Memphis at 4759 Poplar Ave. to serve customers in the city and the surrounding Mid-South region. Blake Sims will lead a team of licensed agents at the new location.
"Memphis continues to see steady growth, as well as a vastly improving infrastructure, which presents a great opportunity for GEICO to expand its presence in Tennessee," Sims said. "We look forward to building long-term relationships with our customers in and around Memphis, as well as those living in bordering areas of Mississippi and Arkansas."
Previously, Sims worked in the Georgia criminal justice system as a parole officer. He then used this experience to launch a private company that provided transportation for previously incarcerated individuals to get to and from work, helping them build more stable lives.
Sims and his team of agents Warren Stowe, Shelita Grier, Dywalla Williams, Keyaira Horn, Monique Webb and Kira Jackson can assist customers with auto insurance, as well as coverage for homeowners, renters, mobile homes, motorcycles, identity theft protection and more. For those who like to spend time on Horseshoe Lake, the Memphis local office team also can help tailor a boat insurance policy. All agents in the office are licensed to write insurance in Tennessee, Mississippi and Arkansas.
GEICO agents in the Memphis area local office look to bring savings to policyholders through multi-line and special association and alumni discounts. For example, alumni from the University of Memphis and Middle Tennessee State University may qualify for an additional discount. The office also can work with military members and government employees to see if they qualify for a specific discount.
Weekday hours for GEICO's Memphis area local office are 9 a.m. to 7 p.m., and Saturdays from 10 a.m. until 3 p.m. To get a quote or learn more visit GEICO's Memphis area local office online or call (901) 800-5777.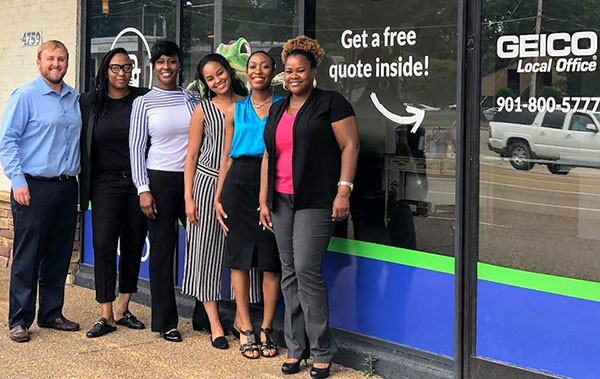 GEICO's Memphis local office team (left to right): Blake Sims, Dywalla Williams, Monique Webb, Kira Jackson, Keyaira Horne and Shelita Grier
Contact Us
We're here for you 24 hours a day, 7 days a week. The quickest way to contact us is through our app or online. You can also ring us by phone.