GEICO opens new local office to serve south Jacksonville area
JACKSONVILLE, Fla., June 13, 2018 – GEICO has opened a new local office in Jacksonville at 10150 Beach Blvd., Unit 10, in the Dinosaur Shopping Center. Insurance agent Madeline Nguyen will lead a team of licensed agents at the new location.
"Jacksonville is experiencing rapid growth, with new homes and subdivisions popping up all over the city," Nguyen said. "Our office looks forward to building a long-term relationship with those who will call Jacksonville their new home, as well as lifelong residents. We're eager to show all our customers why GEICO is Florida's largest auto insurer because of our competitive rates and outstanding service."
Nguyen has always had a passion for helping people make sound decisions with their money. She worked in the financial services industry for 15 years and assisted customers with mortgages, investments and banking needs. She later transitioned to an insurance role, having worked as an agent since 2012.
Nguyen and her team of agents Chris Krestel, Sarah Daily, Kevin George, Jerome Smith and Nathan Flom can assist customers with all their auto insurance needs, whether they want to switch from another insurance carrier or add a new vehicle on a policy before they drive it off the lot. Additionally, staff can help with coverage for homeowners, renters, motorcycles, RV's, umbrella and more. For customers living along Florida's Atlantic coast, agents also can tailor a boat insurance policy to meet their specific needs.
GEICO agents in the Jacksonville local office look to bring savings to policyholders through multi-line and special association and alumni discounts. For example, alumni from Jacksonville University, University of North Florida, University of Florida and the Florida Institute of Technology may qualify for an additional discount. The office also can work with military members at nearby Mayport Naval Air Station to see if they qualify for a specific discount.
Weekday hours for GEICO's Jacksonville local office are 9 a.m. to 6 p.m., and Saturdays from 10 a.m. until 3 p.m. To get a quote or learn more visit GEICO's Jacksonville local office online or call (904) 661-3900.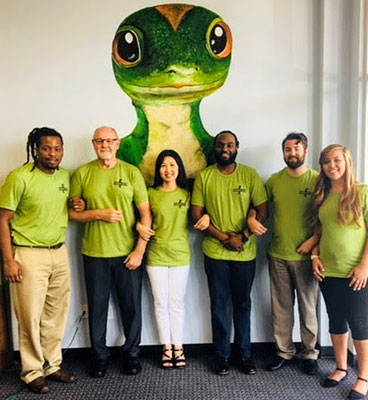 GEICO's Jacksonville local office team (left to right): Jerome Smith, Chris Krestel, Madeline Nguyen, Kevin George, Nathan Flom and Sarah Daily
Contact Us
We're here for you 24 hours a day, 7 days a week. The quickest way to contact us is through our app or online. You can also ring us by phone.