GEICO promotes Rick Hoagland to senior vice president
WOODBURY, N.Y., July 9, 2018 – GEICO's board of directors named Rick Hoagland senior vice president with oversight responsibilities for GEICO's business in New England and New Jersey, along with managing the company's New York insurance operations.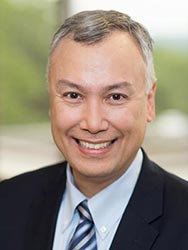 Hoagland joined GEICO in 1994 as a telephone claims representative at the company's regional office in Fredericksburg, Va. He advanced through several positions and was named a manager in 2002. Hoagland was later selected to complete GEICO's executive assistant program at the company's headquarters in Chevy Chase, Md., and then became director of claims home office systems.
GEICO's board of directors elected Hoagland an officer in 2009. He managed claims operations for GEICO's Midwest region in Macon, Ga., and later managed underwriting operations there.
In 2012, Hoagland was promoted to vice president of GEICO's companywide claims operations, and then went on to serve as vice president for GEICO's insurance business in New England and New Jersey. Four years later, Hoagland assumed responsibility for GEICO's regional office on Long Island as vice president of New York insurance operations, where GEICO is the largest private passenger auto insurer in the state.
Hoagland graduated from The College of William and Mary in Williamsburg, Va., and holds a B.B.A. in finance.
Contact Us
We're here for you 24 hours a day, 7 days a week. The quickest way to contact us is through our app or online. You can also ring us by phone.