GEICO promotes Corbin to senior vice president
WASHINGTON, D.C., July 9, 2018 – The GEICO Board of Directors has promoted Pionne Corbin to senior vice president. She will manage the regional office in Lakeland, Fla., where she will be based. She will also oversee the company's Southeast and Midwest regional offices and Centralized Services operation, all of which are based in Macon, Ga.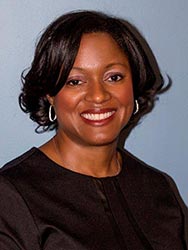 Since June 2016, Corbin had served as vice president of GEICO's Buffalo, N.Y., regional office, where she oversaw the company's operations in New Jersey, Connecticut, Maine, Massachusetts, New Hampshire, Rhode Island, Vermont and oversaw the Marlton, N.J., claims office.
Corbin began her career with GEICO as a management intern at the Fredericksburg, Va., regional office in 1993. After completing the internship program in 1996, she was named a claims service representative supervisor. Corbin then moved to the underwriting division, where she was a sales supervisor and then a service manager. In 2004, she managed the new business underwriting division and the re-underwriting division.
Corbin joined the commercial auto division in 2009 as an operations manager with responsibilities in sales, service and underwriting. She was promoted to director of the division in 2012. A year later, she became a GEICO officer, with her election to assistant vice president of Buffalo underwriting operations. She became assistant vice president of claims in 2015 and held that position until she was promoted to VP of the Buffalo region.
Corbin graduated cum laude from the University of Mary Washington with a B.A. in economics.
Contact Us
We're here for you 24 hours a day, 7 days a week. The quickest way to contact us is through our app or online. You can also ring us by phone.