GEICO names Michelle Trindade vice president of its Tucson regional operations
TUCSON, Ariz., July 10, 2018 – GEICO has named Michelle Trindade vice president for its regional location in Tucson, Arizona, where she will manage insurance operations for seven states including: Arizona, Idaho, Montana, Nevada, Utah, Oregon and Washington.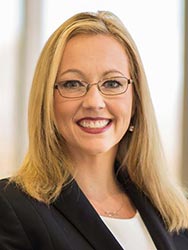 Trindade joined GEICO in 1997 as a sales counselor at the company's regional center in Lakeland, Fla., and advanced through several management roles. She was then promoted to sales director in 2004, and later sales and service director.
Trindade then relocated to GEICO's corporate headquarters in Chevy Chase, Md., to join the company's leadership group, where she headed a project to improve GEICO's sales process. While at GEICO's headquarters, Trindade was later selected to join the company's executive assistant program.
In 2009, GEICO's board of directors elected Trindade assistant vice for underwriting, sales, service and product management for GEICO's mid-Atlantic region at its Fredericksburg, Va., regional center.
In 2014, Trindade was promoted to vice president, and returned to the corporate headquarters to lead GEICO's customer service group.
Trindade earned her bachelor's degree in organizational management from Warner Southern College in Lake Wales, Fla. She holds a master's degree in business administration from Southeastern University in Lakeland, Fla. as well as a master's degree in innovation from Northeastern University in Boston, Mass.
Contact Us
We're here for you 24 hours a day, 7 days a week. The quickest way to contact us is through our app or online. You can also ring us by phone.