GEICO promotes Connor to regional vice president
BUFFALO, N.Y., July 18, 2018 – The GEICO Board of Directors has promoted Jeremy Connor to vice president of the company's regional office in Buffalo, New York, and claims office in Marlton, New Jersey.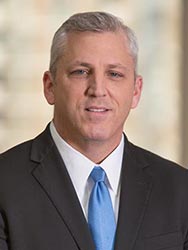 Connor had served as assistant vice president of claims in Buffalo since 2016. He began his GEICO career in 1995 as a part-time claims information center associate at the company's Woodbury, New York, regional office. He then became a full-time claims service representative.
After progressing through all of the technical areas in liability claims, Connor was named a claims service representative supervisor and later a telephone claims representative supervisor at GEICO's Tucson, Arizona, office.
He next relocated to Buffalo to help establish its claims department and supervise telephone claims representatives. He later became a section manager. In 2007, Connor returned to Woodbury to manage planning and operations; he became regional liability director a year later. He was named director of personal injury protection for the region in 2010.
Connor was elected a GEICO officer in 2012, when he was named assistant vice president of claims at the Fredericksburg, Virginia, regional office. In 2014, he assumed that same title at GEICO's Lakeland, Florida, regional office.
Connor has a B.S. degree in finance from SUNY-Old Westbury and attended a management seminar program in 2008.
Contact Us
We're here for you 24 hours a day, 7 days a week. The quickest way to contact us is through our app or online. You can also ring us by phone.