GEICO's board of directors elects John Alutto assistant vice president
TUCSON, Ariz., July 23, 2018 – GEICO's board of directors has elected John Alutto assistant vice president. In his new position, Alutto will oversee GEICO's underwriting activities at its regional office in Tucson, with responsibility for seven western states, including Arizona, Idaho, Montana, Nevada, Utah, Oregon and Washington.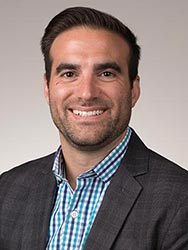 Alutto joined GEICO in 2007 as a product management analyst for motorcycle insurance at the company's location in Virginia Beach, Virginia. He was promoted to supervisor in 2009 and oversaw several business units at GEICO's offices in both Virginia Beach and Fredericksburg, Virginia, including commercial insurance sales, auto service and retention and auto insurance sales.
In 2012, Alutto joined GEICO's underwriting division at its corporate headquarters in Chevy Chase, Maryland, to manage the underwriting standards and training team, and was later promoted to director of corporate underwriting.
In 2014, Alutto returned to GEICO's office in Virginia Beach to serve as underwriting and product manager for the company's motorcycle insurance business and then went on to manage the auto sales division. He was then promoted to service director, supporting policyholders in Virginia, North Carolina and Tennessee.
Alutto holds a bachelor's degree in business management from Virginia Wesleyan University in Norfolk, Virginia.
Contact Us
We're here for you 24 hours a day, 7 days a week. The quickest way to contact us is through our app or online. You can also ring us by phone.